30-Something Soccer Mom Seeks BFF
by Amanda Briggs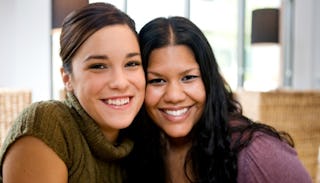 quavondo / iStock
I'm a 30-something soccer mom who seeks same for eventual BFF-dom. Clean freak CrossFitters need not apply. Clean eating is OK, as long as you are willing to share an occasional froyo at that place our kids love so much. Must be compassionate, understanding, and available for time spent sitting on my sofa watching my toddler play and listening to me lament about the same five topics repeatedly.
You do not expect me to call, but are happy to exchange texts and posts on social media. You are not easily intimidated or overly judgmental. If I am still in my glasses and flannel pajama bottoms at noon, you are perfectly OK with that and won't voice your concern to my husband or mother. You are not a wallflower and have your own very defined worldview, as well as your own sense of style that you don't mind sharing with me. It will therefore follow that you are confident and do not view our friendship as a competition. It won't matter whose husband has the better job or who has the bigger house because; at this point in your life and experience, you are way beyond that.
You are adventurous. You may want to try out a pole dancing class or load up all our kids for a day trip to the beach. You are well read and do not think 50 Shades of Grey is serious literature and would not spend your hard-earned cash for such a book or attempt to plan an evening out to see the movie. You may have been wild in your youth but have certainly mellowed out since becoming a mother. You may have tried drugs in college, but caffeine is your only drug of choice now. You enjoy a glass of wine in the evening or on the weekends, but three Long Island iced teas in one hour is not something you'd even consider. You have been to either a Lollapalooza or Lilith Fair and plan on one day making these artists part of your children's musical education.
You do not want to use me to climb any type of social ladder. You are content with your current country club membership or lack thereof. You won't ignore my texts when a newer, prettier, higher-up-in-the-food-chain mom enters the scene. You will not badger me into hosting a purse, jewelry, cleaning products, or press-on nail decor party. You have no ulterior motives. You just want me for me.
You must be full of hope, despite past failed friendships and hurt feelings. I have been looking for you so long that if, by chance, we find each other at this age and at this stage in our very full lives, I am willing to put everything into making this friendship work. I pray that you are too.
This article was originally published on