American Girl Just Got A Little More Diverse: Korean And Hawaiian Dolls Coming This Year
by Sarah Hosseini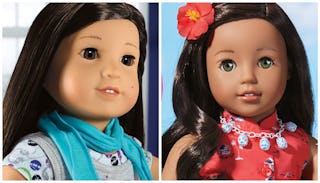 Image via American Girl
Say hello to Z Yang and Nanea Mitchell
American Girl hears you loud and clear: buyers want more diversity, more experiences, and more stories. Well, you got it. It is 2017 after all, and representation and inclusivity matters. The iconic doll makers announced their plans this week to roll out two new dolls this year, one Korean American doll and a Native Hawaiian doll.
Z Yang is the Korean American filmmaker (doll pictured above to the left) and Nanea Mitchell is the Native Hawaiian girl (doll pictured to the right) who grew up during the start of World War II.
"We have consistently heard from our fans for so many years, that they love all of the characters we've introduced historical and contemporary, but they want more," Stephanie Spanos, a spokesperson for American Girl Doll, explains in a Facebook live video. "We've heard you want more diversity represented, more interests represented, and more stories represented, and we couldn't be more thrilled this year to delivering on that request in such a big way."
On the American Girl website, it says that Z is an "imaginative filmmaker who develops her own take on the world around her."
American Girl super fans may actually recognize Z Yang, as she made her debut on American Girl's YouTube series, #AGZCREW, in 2015. The channel says she loves making stop-motion videos and offering film making tips to viewers.
Z will be available in Spring 2017. Her live-action Amazon special (she's the first American Doll to have one) will be up in the summer.
The other new doll is Nanea Mitchell, who grew up in 1941, during the Pearl Harbor attacks and the start of World War II.
The website says that Nanea, "… does her part to help and heal during wartime." She's part of the BeForever collection, which features characters from different eras through history. She's the first one to be dressed in shorts and sport American Girl's new face mold. She will be available in Fall 2017.
It's been an exciting start to the year for the company, who just days ago, released their first-ever boy doll, Logan Everett.
The day he debuted I happened to be close to the Atlanta flagship store shopping with my daughters when we saw him.
"I can play with a boy doll and a girl doll!" my oldest daughter exclaimed. And that's just it – the boy doll opens up the possibility for girls to play with boy dolls and girl dolls, and for young boys to do the same.
If 2017 is any indication of where the American Girl doll company is going, it seems they're headed on a path of doll-making that's more diverse and more inclusive. The company understands that representation is so important for our kids. When our kids can see characters being represented in various ways that are interesting, creative, smart and multi-dimensional, they too will start actually believing that it's possible for them to be all of those things too.
This article was originally published on