20 Best Family Puzzles You Can Do Together
We only recommend products we love and that we think you will, too. We may receive a portion of sales from products purchased from this article, which was written by our Commerce team.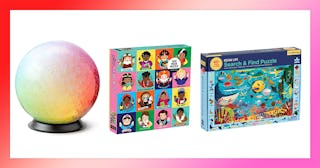 Amazon
If you're looking for family puzzles, that's probably because puzzles have become THE cool thing to do in 2021. Puzzles are back with a vengeance (they never really went anywhere but now we're super into them), and we're all about it. In the US, more people enjoy puzzles each year than any other board game. Admittedly, our younger selves thought puzzles were lame. The idea of spending hours trying to fit pieces together to create a picture of a bridge over a pond in a forest surrounded by squirrels was just not a party. (Can you blame us? Hoverboards for kids just became a thing) But, as we all know, kids have transformed us into new people who'll do anything to spend quiet time with the family (keeping them off of their personal screens and begging us to make more slime). And now, they have us online searching for the best family puzzles.
RELATED: Around The World In 15 Ways: The Most Educational World Maps For Kids
Let's be real, we're pretty much down for anything that keeps these kids occupied long enough for us to finish the last 15 minutes of Good Girls or to finally tackle that self-waxing project we've been needing. Not to mention the problem-solving skills your kids pick up trying to match colors and patterns on those teeny puzzle pieces. Did we mention this was all for family fun? Instead of leaving the kids to their own devices (fighting over pieces, hiding pieces, losing pieces…you get it), you're all meant to join in on this concentrated fun, whether you're working on a kid's puzzles or the world's biggest puzzle (below).
Puzzles are a great way to incorporate self-care into your day, too. Not just a source of entertainment, putting together puzzles can help to decrease anxiety (for all of you). Plus, if you accidentally step on a few pieces that don't make it back into their box, you won't stop and question your entire life as you do after stepping on a Lego.
Here are a few all-hands-on-deck puzzle situations, that'll get everyone off of their phones to *piece* together a family fun night (#sorrynotsorry).
Best Puzzles for Families
Best Family Puzzles For Disney Fans
Best Family Puzzle For Hours (And Hours And Hours) Of Entertainment
Best Family Puzzles With Nature Scenes
Best Unconventional Family Puzzles
Best Nostalgic Family Puzzles
Still looking for things to keep your kids occupied long enough to wash off yesterday's makeup? Check out these other toys.