Need Some Tech-Free Time? These Are The 9 Best Games For Large Families
Fun for the whole family — even HUGE families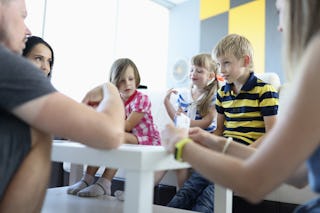 Shutterstock
We may receive a portion of sales if you purchase a product through a link in this article.
Screens are no doubt an easy way to entertain the family, but when you need tech-free time, having a few tried-and-true games in your arsenal is key. But when you have a big family, getting everyone to agree on a game isn't exactly easy. That's where the best games for large families come in. They are designed to get everyone in on the fun, from toddlers to teens, parents and grandparents. Ready for some old-fashioned family fun? Check out the top picks below.
What To Consider When Shopping For Games For Large Families
Number of Players
The average board game has a player limit of four but the best games for large families can accommodate a minimum of six players and go as high as up to 10 or even 20+ players (perfect for those big holiday gatherings or family reunions). Many of the games below also lend themselves to two-team play that can easily absorb people as they come and go. After all, once others see how much fun you're having, they'll likely want to get in on the action.
Age Range
Just because the whole family can technically play, that doesn't mean they'll want to if it's too slow for the big kids or too advanced for the little ones. That's why we included a few games that can be played by the whole family, together; from ages 3 to 100 (or older—no limits here), like charades, a game that preschoolers can grasp but is still fun for older kids and adults.
We also threw in games that tweens and teens will enjoy playing with their parents (gasp) since they lean silly or even strategic, taking their minds off of the fact that they are spending time off their screens and with their parents.
No matter how many and what age kids you've got and whether it's just a rainy day or you're planning a family game night, you're sure to find a crowd-pleaser game here. The best news? All of these games are available on Amazon for fast shipping — so you can start playing right away.