Is 'Bluey' Season 4 Happening "For Real Life"? More Heeler Family Fun Could Be On The Way
Activate dance mode! The future is looking bright for Bluey and her family.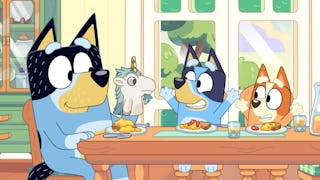 ABC/Ludo Studios
If the wait for new Bluey episodes has your kids (and you) saying toast and beans, then fear not — there appears to be more Heeler family fun on the way. Season 3 of the hit kids' series is currently still rolling out new episodes in Australia, where the show airs weekly on ABC Kids. But devoted fans are eager for news on Bluey Season 4.
The good news for fans here in the States is that are still 20+ new episodes of Season 3 to be released on Disney+. While the streamer hasn't announced a release date for the second half of the season just yet, new episodes will likely premiere in either the summer or fall of 2023, depending on when the season wraps in Australia.
With Season 3 still underway, the show's creators are already turning their attention to Bluey, Bingo, Bandit, and Chilli's future. After a 2022 article in the Daily Mail claimed that the beloved kids' show would end with Season 3 due to the child actor who voices Bluey aging out of the part, the official Bluey Twitter released a statement refuting the claims.
"Some of you have spotted some online speculation on the future of #Bluey," the statement read. "We absolutely love the show, and there are no plans to end it. The community of fans around the world continues to blow us away, and if we ever had an update on Bluey's future, you'd hear it from us first."
That's not the same as an official Bluey Season 4 announcement, but it certainly sounds like the Heeler family's story isn't over just yet.
Is Bluey Season 4 happening?
New episodes of Bluey Season 3 will continue airing on Australia's ABC Kids channel through early June. After that, a third batch of episodes is expected to premiere, bringing the season to a total of 52 episodes.
It's unlikely fans will get any official word on a fourth season until after Season 3 has concluded. The official statement from the Bluey team in the wake of Daily Mail's cancellation rumors certainly suggests there will be more episodes full of Bandit being a super dad and Chilli being the chilliest mom on the horizon.
Whether that comes in the form of another 52-episode season, shorts, a special, or some other form entirely remains to be seen. But the good news for you and your Bluey-loving family is that plenty of new episodes are coming to Disney+. So far, the streamer has only released 27 episodes from Season 3, which means there's still lots of fresh Bluey content to look forward to — including the return of the grannies!
Will Season 4 be the last season of Bluey?
In a March 2022 interview with The Independent, series creator Joe Brumm hinted that his days of making children's programming may be coming to an end. There's always the possibility that the show could continue without Brumm, but his vision has been so integral in making Bluey a hit that it's hard to imagine the series without him.
"I never, ever saw myself working in children's television," Brumm said. "It doesn't suit me very well." He went on to add that one of his biggest issues with the medium is dealing with censors who decide what is or isn't appropriate for young audiences.
He continued, "Because [it's] children's TV ... people you give it to sort of think that's appropriate. I can't handle that so well — so I think my days working in it are probably a bit limited."
In the same article, Brumm also noted how blown away he has been by the response to the series, and he hopes that one day the kids who love his show will grow up and think back on Bluey fondly. "When these kids who are growing up on Bluey now are in their 20s and 30s and 40s, if someone asks them: 'What was the cartoon you liked as a kid?' and they answer Bluey. That's the highest compliment that I could get – because I know I still vividly remember the best cartoons that I watched as a kid. And they inspired me."
How should you and your kids pass the time waiting for new Bluey episodes?
Even kids eventually get burned out on watching reruns, so if your kiddos are impatiently waiting for new episodes, now is the perfect time to try some of the imaginative games at the heart of Bluey. An evening spent playing Keepy-uppy, Taxi, or Shadowlands will be an evening well-spent.
Looking for something a little more low-key? Try co-watching one of these shows like Bluey with your family:
Peppa Pig
Foster's Home For Imaginary Friends
Hilda
Arthur
The Magic School Bus
Phineas & Ferb
Craig of the Creek
Shape Island
We Bare Bears
Nothing is the same as new episodes of Bluey, but your kids might just find a second favorite show during their wait.