The Best Crossbody Camera Bags For Going Hands-Free In Between Capturing Memories
by Nichole Talbot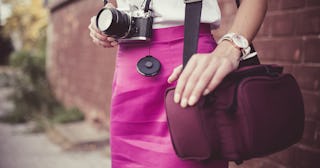 Getty Images/Dusan Ilic
If you're anything like us, it's not every day that you reach for a crossbody camera bag. Unless you're a boomer, you probably use a smartphone for most of your photo-taking. Using your phone is fast, easy, and always in hand (unless your toddler hid it somewhere). But on the rare occasions where you want to get that perfect photo, like during family vacations or celebrations, you'll want to dust off your trusty DSLR and lenses. Smartphone cameras are awesome, but when you want to play with the exposure and tinker with manual settings, DSLRs still can't be beat for photo production quality.
RELATED: Picture-Perfect Gifts Your Photographer Friends Will Absolutely Love
We know the idea of schlepping another bag around in addition to your travel bag, kids' luggage, and strollers doesn't sound like a grand time — but hear us out! A crossbody camera bag offers quick equipment access with added security. Plus, even the most compact versions offer enough space for your phone, chapstick, and snack containers. A good crossbody bag distributes the weight more evenly so you don't get that godawful neck and back pain from heavy shoulder bags. It also keeps your hands free for all the kids' toys and snacks they promise they'll carry but renege five minutes later, "Mom, can you hold this?"
RELATED: Best Camcorders To Record Your Family's Memorable (And Funny, And Embarrassing) Moments
We've put together some of the top crossbody camera bags this season (including a few that can easily double as purses) because how else will you get a decent pic of your kid whizzing by during a soccer game? Or a good portrait of the kids that you can Lightroom to greatness? Your neck and shoulders will thank us later.
Best Crossbody Camera Bag
Best Camera Bags for Women
Best Camera Bag Purses