This Scalp Serum Saved Me During Postpartum Hair Loss
It's so good, I almost want to gatekeep.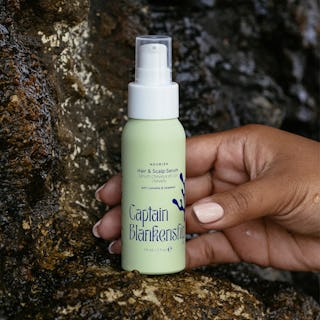 We may receive a portion of sales if you purchase a product through a link in this article.
Unlike a lot of my other postpartum symptoms (looking at you, melasma' stache), postpartum hair loss was something I had prepared myself for. Or, more accurately, it was an inevitable symptom I knew was coming — and that I was ready to battle to the death.
Like clockwork, I started noticing more and more hair falling out in the shower around three months postpartum. Pre-pregnancy, I never did anything with my hair. In fact, as much as I love skincare and makeup, I've always been borderline lazy when it comes to taking care of my locks. But I knew as soon as my hair started falling out that something simply needed to be done.
That's when I started seeing Captain Blankenship Nourish Hair & Scalp Serum all over Instagram. A few of my favorite accounts shared how incredibly hydrating and healthy their hair became as a result of the product, and I knew I had to give it a try. So, did it live up to the hype?
Highlights
What Is It? A lightweight, highly concentrated serum made to mimic the scalp's own sebum. The rich formula is made to leave your hair and scalp nourished.
Key Ingredients: organic camellia seed oil (for hydration and nourishment), organic argan oil (nourishes hair with essential vitamins and minerals), organic jojoba oil (mimics skin's own sebum to deeply hydrate scalp and hair strands)
Cruelty-Free? Yes. Vegan? Yes. Recyclable Packaging? Made with recyclable aluminum packaging, with a pump that you can recycle through the Pact Collective Recycling Program.
How to Use It
So, there are a few different ways you can use this serum, which is intended to keep both your hair and scalp hydrated and healthy. For daily treatment, you can use a few drops on damp or dry hair, apply it to the ends, and use it to tame frizz. As a scalp treatment, you'll want to go a little more heavy-handed. You can work the serum into your roots and massage it into the scalp. From there, you can leave it on for a few hours or overnight and then wash it out.
For daily use, I've loved using just a few drops smoothed into the ends of my hair pre-styling. Once a week, I'll slather the oil all over my hair right before bed and put it up in a bun (those looking to avoid an oily pillow may want to use a shower cap, but I walk on the wild side of life and go cap-less). In the morning, I wash it out and shampoo and conditioner as normal.
The Results
While I had mentally prepared myself for hair loss postpartum, one thing I hadn't prepared for was how dull and lifeless my hair would become. During pregnancy, my hair looked the best it ever had. After pregnancy, it did a complete 180, and I'm not exaggerating when I say it's the worst it's ever looked. Micro-bangs? Stringy and lifeless? Dull? Check, check, and major check.
Using just a little bit of the Captain Blankenship Nourish Hair & Scalp Serum on a daily and weekly basis has made a massive difference in my hair. While it can't cure these micro-bangs (let's not even talk about the micro-bangs…), it has done the seemingly impossible — make my hair look as healthy as it did pre-pregnancy.
The lightweight formula never makes my strands feel or look weighed down when I apply it. Instead, it gives my hair a radiance that delivers a bit of life. The ingredients are also incredibly beneficial for long-term use. Camelia seed oil, argan oil, and jojoba oil are all ingredients I've used on my complexion before with great results. Turns out they can really make a difference with your hair as well!
As for my weekly overnight treatment, that's the one that makes the biggest difference. I'll admit that I loathe the feeling of my hair being super oily, so this was a type of hair treatment I always put off before. However, I'm willing to eat my past words because this works. After washing my hair out in the morning and blow drying, my hair looks like a full-on 2000s-era Garnier Fructis ad. It's shiny and catches the light in a way that makes me think, "Oh, this is why people take care of their hair."
Listen, has my postpartum hair returned to the place I want it to? Not completely. But thanks to this hair serum, my hair survived massive postpartum hair loss and dullness and came out the other side looking healthy and shiny.