We're A Fan! These Are The Best Ceiling Fans To Help Keep Your Home Cool
by Zlata Faerman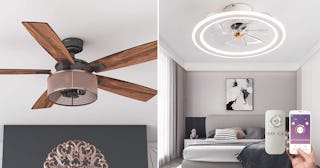 Amazon
Searching for the best ceiling fans is no easy feat. There are only a few things that I've had trouble pulling the trigger on buying since moving into my new home, and I'm by far the most indecisive with ceiling fans. Artwork and decor for the wall can be moved and rearranged, lighting can be as simple as switching a lampshade, but ceiling fans are always a tedious task to install. And if you don't like it, it's an even more tedious task to return.
RELATED: We Found The Trendy Home Decor That's All Over Instagram — And It's All Under $100
Picking the best ceiling fans for the bedroom all comes down to functionality, color, lighting, design, and ease of use. With so many of them on the market, it can be a really tough decision to make, especially when it comes to getting down to the main difference between them all. Like always, Scary Mommy has got you covered and we did quite a bit of digging so you don't have to. Whether you're looking for ceilings fans with lights, remotes, or would rather keep it simple with a pull chain — we've got them all in our top picks below!
Best Ceiling Fans
Best Ceiling Fans for Bedroom
Best Ceiling Fans with Best Lighting
Best Bedroom Ceiling Fans with Lights and Remote