21 Genius Cleaning Products You'll Wish You Had Owned Your Whole Life
We only recommend products we love and that we think you will, too. We may receive a portion of sales from products purchased from this article, which was written by our Commerce team.
by Megan McCarty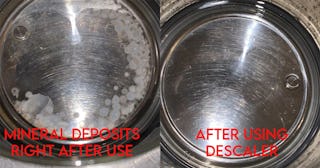 Amazon
Nobody likes to scrub their toilet. No one wants to fish hair out of a clogged drain. But sometimes that's life, and we're here to help. If your biggest pet peeve is a dirty home (but you seriously don't have enough time/energy to get it clean), we've rounded up 21 of the best, most ingenious cleaning products that will make everyday cleaning tasks, like scrubbing crayon marks off a wall or emptying the litter box, a little less awful. Scroll on for our favorite cleaning products that we can't live without. All of them were invented to make your life easier – because life is hard enough! – from catching hair before it goes down the drain to capturing disgusting diaper pail smells. Who knows? You may even start to enjoy cleaning.
1. Nearly 100,000 Amazon reviews rave about this washing machine cleaner with foaming tablets that will freshen up any musky, hopefully-not-but-maybe moldy washing machine.
2. Get out all the stink in any room – home gym, stale closet, vile diaper pail – with charcoal air purifying bags.
3. With over 18,000 reviews – nearly all of them five-star – this dishwasher cleaner is clearly a fan favorite for removing limescale and grease build-up inside your dishwasher.
4. Once you see the reviewer pics from this drain snake hair remover, you'll be shocked you have any hair left on your head. It's…yeah.
5. If you're constantly battling pet hair, this vacuum cleaner specifically made for our four-legged friends' shedding will make your life so much easier.
6. Coffee machine running a little slow? Run this cleaner through it to eliminate limescale and hard water mineral deposits. (Because Mama needs her coffee.)
8. Garbage disposal smelling a little funky? You need these.
10. We don't even wanna think about what germs our toothbrushes are exposed to, so nab one of these UV toothbrush sanitizers.
11. We love our little furry friends; we hate lingering litter box smells. Enter this little box odor eliminator.
13. Calling all yogis! This natural and organic yoga mat cleaner refreshes and sanitizes your mat so you can namaste day after day.
14. 54,000 Amazon reviews agree: this pet hair remover is a game-changer for your couches, beds and blankets.
16. A robot vacuum that can be scheduled through an app or can start cleaning by the sound of your voice and cleans high-traffic areas more thoroughly = game changer.
17. Because we don't even want to think about how dusty the tops of our refrigerators are, add one of these Microfiber Dusters with Extension Pole to your cart.
18. More than 74,000 Amazon reviews don't lie: the TubShroom will save your drains from clogging up with hair.
19. May you never have to work up a sweat scrubbing pots and pans again – not when you have these non-scratch microfiber sponges with heavy duty scouring power.
20. Sinks, toilets, stovetops, stainless steel, brass, ceramic – what doesn't Bar Keepers Friend clean?
21. Since kids will insist on coloring on walls until the end of time, there's the Eraser Daddy.