75 Clever Things On Amazon That Are Insanely Cheap
Once you add these finds to your cart, you'll wonder how you lived life without them.
Written by Allison Bolt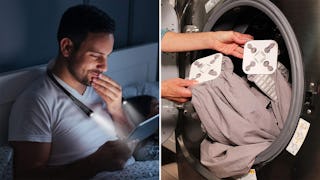 We may receive a portion of sales if you purchase a product through a link in this article.
There's nothing like a clever little online find that ends up saving you a ton of time in your routine or even makes a part of your day feel more luxurious. These clever Amazon buys always feels like discovering a sneaky secret to making every day a little bit better. Plus, we all deserve to use an expensive-feeling skincare product, speed up chores, or feel super put-together before we head out of the house.
So, look through these 75 clever things on Amazon that are insanely cheap to find that perfect, sneaky little product to make your routine easier (and a little chicer).
This article was originally published on