WTF To Do With Your Kid's Crib Mattress Once They Outgrow It
Is it safe to reuse it for your next kid? Should you donate it to another parent? Here's the scoop from a pediatrician.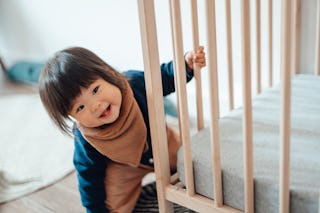 Oscar Wong/Getty Images
When your little one transitions from a crib to a big kid bed, you might wonder what to do with the used crib mattress. After all, babies are expensive — and all the costly gear they require adds up quickly — so you might be questioning whether you can save yours and reuse it if you have more kids or give it to someone else to save them some money.
Unfortunately, it's not always simple to recycle big-ticket items like crib mattresses, so donating or stashing them away for later use seems like a no-brainer. But is it safe to do so? Dr. Amaka Priest, pediatrician and member of Swehl's Motherboard, is here with the full scoop.
Reusing vs. Recycling
Safety is the primary concern regarding secondhand baby gear, especially when it comes to sleep safety. While adult mattresses tend to be pretty straightforward, baby gear safety protocols and requirements change over time, so even a relatively new crib mattress might not be safe enough for a second lifespan. In fact, most crib mattresses are only safe for roughly five years of continuous use, and that's without any recalls.
So first, you'll want to check to see if there has been a recall on your crib mattress. If there has, it's obviously a no-go. Check the tag for manufacturing info, and visit the brand or retailer's website if you're still unsure.
Next, you'll need to inspect it very closely and carefully, says Priest. "A good mattress should be firm with an intact crib cover. It should not shift in the frame of the crib. Additionally, there shouldn't be gaps around the edge of the mattress and crib. The mattress should be firm, and the cover should be free of tears. Any sagging, shift, tears in the cover, or odors in the mattress indicate that the mattress is unsafe for use and should be replaced." You can check by firmly pressing both in the center and at the edges — there should be no caving, lumps, or handprints left behind, and it should snap back into place immediately.
According to current guidelines by the American Academy of Pediatrics, soft mattress toppers or materials (like memory foam) are unsafe. It should also fit well in its crib, so you'll need to confirm there's no more than two fingers' width of space between the side of the mattress and the crib frame.
The Disinfection Question
Even the most gently used crib mattress should be thoroughly disinfected before reusing or gifting, says Priest. "Care for the crib mattress as instructed in the product manual. Clean as soon as possible to prevent soiling the padding in the mattress."
If your mattress has been stashed away, you'll need to take extra care with cleaning, even if it's been stored in a cool, dry space. "Even with a cover, the mattress can become dirty or dusty," she adds. "Regularly cleaning the mattress will reduce excess dirt or dust. Begin with a handheld vacuum to pick up as much dust and debris around the sides and corners as possible. Use a gentle natural stain remover or hypoallergenic detergent with a gentle scrub brush to lift stains. To target bacteria, you can use a little bit of rubbing alcohol as an extra treatment. Wipe the treated areas with a damp cloth to remove the cleaning solution or detergent and allow the mattress to air dry in a clean environment for at least a few hours before use."
Second Life Safety
Generally speaking, a lightly used, high-quality crib mattress is most safely kept in the same household or donated to someone you know, so you can vouch that it has been cleaned and well-cared for. If your mattress is, in fact, firm, completely flat, and free of indents — and you've thoroughly disinfected it — it should be safe for a second use. That said, there is a greater risk of sudden infant death syndrome (SIDS) with a used crib mattress, especially if the mattress is from another home. So, while you might think you're doing a good deed by donating or selling it for cheap, it's always best to be fully transparent because baby safety is no joke.
When In Doubt, Recycle It Out
If there's any doubt about the condition of the crib mattress, it's far safer to recycle it, if at all possible. Some states make it easy to do so; check the Mattress Recycling Council or Bye Bye Mattress for more info. Of course, you should always check in with your pediatrician about any specific concerns as well.