16 Best Daniel Tiger Toys That Little Fans Will Love
by Jenn Sinrich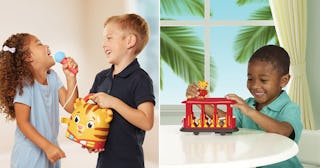 Amazon
Daniel Tiger toys are all the rage right now, mama. If you're not familiar with this PBS modern-day kids classic, then you either don't own a TV or you don't have kids. (And if you do have kids but have never seen Daniel Tiger, then you're just blessed by the parent gods above — trust me). As painful as this show is to have on in the background of your life 24/7, it's actually really fun and educational for your kids.
Inspired by Mister Rogers' Neighborhood, Daniel Tiger's Neighborhood tells the tale of a four-year-old tiger who wears the same classic red sweater and practices tying his shoes just like Mister Rogers himself. He takes young viewers on fun adventures with him that teach practical skills that children of all ages can benefit from.
Because the show is such a hit with the youngsters, you better believe there are boatloads of toys out there to make kids feel like the tiger fun never has to stop. Here, we're sharing some of our favorites, from plush stuffed animals and fun figurines to tub-time and potty-time companions. Shop the best Daniel Tiger toys below!
Best Daniel Tiger Toys
Best Daniel Tiger Neighborhood Toys
Best Daniel Tiger Trolley Toys
Best Daniel Tiger Potty Toy