To Splurge Or Not To Splurge
Is It Really Worth It To Pay Extra To "Skip" The Lines At Disney & Universal?
A breakdown of the costs, when they make sense, and when you can save the extra cash for snacks.
by Morgan Flaherty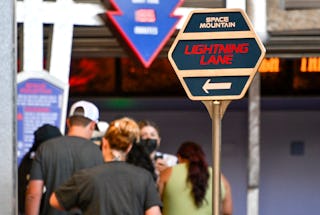 MediaNews Group/Orange County Register via Getty Images
You bought the tickets, you booked the hotel, and you even stayed up early to make dining reservations. Now there's just one thing left to decide for your Universal or Disney trip — how long are you willing to stand in line for the rides?
Both of these major theme parks offer services that allow guests to skip the regular Standby line... for a cost. We're breaking down exactly what is involved with those costs and whether it's worth it to skip the line at the parks.
How can you skip the line at Disney and Universal?
At Disney World and Universal Orlando, you have options that will allow you to skip the Standby line for an extra price. Disney uses the Genie+ program, which has a per person per day cost that allows you to continuously choose rides that you can skip the line with using Lightning Lanes. The amount of lines you can skip completely depends, and it's not guaranteed you'll be able to get the ride you want.
Universal Orlando works a bit differently. You can purchase Express Pass, a per person per cost that allows you to bypass the Standby line for each ride once. Or you can purchase Express Pass Unlimited, which will let you bypass the Standby line at any ride multiple times throughout the day.
What is Disney Genie+, and what does it cost?
Disney Genie+ is the service Disney World and Disneyland use to allow guests to skip the line. You can purchase it through the My Disney Experience app for Disney World or the Disneyland app for Disneyland Resort.
As of June 27, the cost depends on the park you choose and the day. Each park has its own set price, with the option to also purchase a multi-park Disney Genie+ option that will allow you to use it across parks that day. While the price can go either up or down depending on the time of year, for example, these are prices set for June 27, 2023:
Multi-Park Genie+: $27
Magic Kingdom: $27
Disney's Hollywood Studios: $24
EPCOT: $18
Disney's Animal Kingdom: $16
With Disney Genie+, you can continuously select return times to access Lightning Lanes, which are the lines that bypass Standby. You can make your first selection at 7 a.m. and then make a second selection two hours after the park opens. Rides are subject to availability, so there's no guarantee you will be able to get a Lightning Lane for the attraction of your choosing. Additionally, once you use a selection on a ride, you cannot use another one for that same ride later on.
You'll also want to note that not all rides at Disney World are included with Disney Genie+. Disney World's most popular rides have Lightning Lane access available, but it's for a cost per ride separate from Disney Genie+. For example, if you're looking to ride TRON Lightcycle/Run in Magic Kingdom, you will be paying a set price just for that ride.
What is Universal Express Pass, and what does it cost?
While Universal Studios has its own option to skip the line, it's a bit different than Disney World's version. There are several different versions of the Express Pass you can consider.
The 1-Park Per Day Basic Express Pass starts at $89.99 per person per ticket, and the 2-Park Per Day Basic Express Pass is $104.99 (plus the cost of admission). That price changes based on how many parks you visit, which parks (Universal Studios Florida, Islands of Adventure, and Volcano Bay Water Park), and the date you're visiting.
For Volcano Bay Water Park, you can purchase an Express Pass starting at $19.99, which lets you skip select attractions, or purchase the Express PLUS Pass for $49.99, which lets you skip the Virtual Lines for all participating rides.
The other option is to purchase Express Pass Unlimited. This has similar options for you, with the ability to purchase a 1-Park Per Day Express Pass Unlimited for $119.99 per person or $134.99 per person for the 2-Park Per Day Express Pass Unlimited (again, on top of the cost of admission). With the Express Pass Unlimited, you can skip the line at participating rides for an unlimited amount of time, so you can really get the most bang for your buck.
When should you buy Disney Genie+ or Express Pass?
You've already bought an expensive ticket and spent goodness knows how much money on your trip, so I can understand the skepticism in paying even more for a way to skip the lines in the parks. However, there are certain circumstances where it can be worth it. These are a few times I would absolutely recommend that you *do* decide to skip the line using Disney Genie+ or Express Pass:
Visiting on a once-in-a-lifetime trip: If you are only going once and want to get the most out of your trip, both of these services will help you get as much done as you possibly can without having to wait in a long line.
Going during the holidays: If you are visiting during a particularly busy time of year (like the holiday season), you will save a ton of time in line by using Disney Genie+ or Universal Express Pass. During peak season, lines can easily reach multi-hour status, so these services will let you get on far more rides than you'd be able to without.
Depending on what park you're visiting: This one especially applies to Disney, but there are certain parks where purchasing Disney Genie+ may be more worth it. For example, Disney's Hollywood Studios will often have some of the highest wait times in all of Disney World, and it's not rare for nearly all of the attractions to reach wait times of over an hour. If you want to spend less of your time in line, Disney Genie+ can be a massive help in these parks.
When should you skip Disney Genie+ and Express Pass?
While it's easy to assume that the easiest thing to do is just put out the extra cash to buy Disney Genie+ or Universal Express Pass, there are times that you can probably save the money and not use it. These are a few times I'd recommend you skip out on skipping the line:
Visiting during off-peak times: During early fall and certain times in the winter, wait times drop significantly from the higher waits you'll see in the summer and holidays. During these times, you can often get on rides quickly enough that paying the extra cash may not be worth it, especially for a bigger investment like Universal.
If you're a regular visitor: If you go to the parks a lot or feel like you don't need to get everything done on a trip, you may want to consider skipping out on purchasing Disney Genie+ or Univeral Express Pass.
If you're visiting less crowded parks: While Disney's Hollywood Studios and Magic Kingdom can get incredibly high wait times, a park like Disney's Animal Kingdom can have fairly manageable wait times, especially during the slower seasons. The most popular ride at the park (and the one with the highest wait) is Flight of Passage, which is an additional cost outside of Disney Genie+. So, if you're going to spend money on anything, it may be worth just paying for that ride versus purchasing the whole Disney Genie+ service for the day.
Of course, there will be different circumstances based on your family's needs. For example, if you have a kid who isn't great at staying in lines for long periods, it may be worth purchasing one of these services to cut down on the potential stress.
From my own personal experience, there have been times when Disney Genie+ and Universal Express Pass have helped me significantly in getting on the rides much faster. But there's no denying it's an investment, so ultimately, you have to decide if it's something that is going to be worth that cost for you and your group.