5 Things You'll Regret Spending Money On In Disney World
Save your cash for something more worthwhile!
by Morgan Flaherty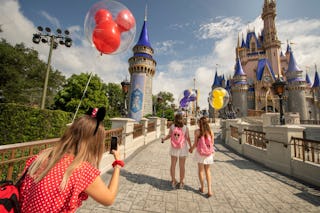 Handout/Getty Images
In completely unsurprising news, going to Walt Disney World is expensive. From the cost of tickets to the hotel pricing, the Most Magical Place on Earth is also one of the priciest. However, there are ways to budget when planning your Disney trip — and one of the big ones is to know when not to spend the money.
When you get to Disney World, there are tons of options to spend even more money, from food and upcharges to souvenirs. But take it from me, as someone who writes about Disney for a living: You'll regret spending your money on these five things.
Rain Gear
In case you didn't know, it rains a lot in Disney World. It's incredibly common to get at least one downpour during your Disney World trip, so it's better to plan for it in advance. When it rains, you'll see people rush to buy the rain ponchos sold in the park, which cost $12 (plus tax).
Instead, buy some in advance on Amazon, where you can pick up a 5-pack of disposable ponchos for $11.99 (less than just one in the parks).
Refillable Popcorn Buckets
Disney is constantly releasing limited-edition popcorn buckets, pricey souvenirs you can use to lug around your popcorn throughout the parks. While there have been some undeniably cute picks for popcorn buckets, there are two reasons you'll likely regret picking one up.
First, they are expensive, especially for the premium popcorn bucket (the limited-edition ones shaped like characters, etc.). While a regular refillable bucket will cost you $13, a premium bucket can cost up to $30. That price does come with popcorn plus $2 refills for the rest of your trip.
However, the other reason is that buying one of these buckets means you will also… be lugging it around for the rest of the day. Yes, they're fun but bulky and completely cumbersome to have with you throughout the day.
Balloons
Another souvenir that seems unique and fun in theory but also comes with a hefty price tag is a balloon. When you're in the parks (minus Disney's Animal Kingdom), you'll see Cast Members walking around with an impressive display of themed balloons, including cute Mickey-shaped balloons.
While your kid may be mesmerized and try to talk you into buying one, you need to know that these balloons start at $14. Yes, the cost of a Disney World vacation is expensive, but the cost of balloons is particularly breathtaking (no pun intended).
More importantly, though, similar to popcorn buckets, you will be left with a cumbersome accessory that you may regret by the end of the day.
Essentials That Are Cheaper Outside the Parks
Just like with rain gear, you can purchase several essential items for way cheaper outside of the parks. Spray bottles, cooling neck towels, and portable phone chargers are all things you'll find inside the park, selling for a high premium. Save yourself some money by buying them before you get to Disney World.
Similarly, there are kid essentials you may want to buy before going into the parks. Glow sticks, bubble wands, and autograph books are all things your kids may be tempted to purchase in the parks, but you can save cash by buying them in advance and bringing them with you.
Water Bottles
I cannot stress this enough — do not buy water bottles in Disney World. At $3.50 a bottle, buying one each for a family of four will set you back $14. Instead, there are tons of free ways to get water while you're in the parks.
If you bring your own water bottle with you, you can refill it any time at the water refill stations you'll find throughout the park. Additionally, you can grab a free cup of water at many quick-service restaurant locations throughout the parks.
Tickets for After-Hours Events
Now, this one comes with a caveat. After-hours events at Disney World are separately ticketed events that take place outside of regular park hours, giving guests the chance to take in special treats, entertainment, and more — all with fewer crowds than you'd find on a typical day. Depending on the event, you could pay anywhere from $99 to $200 per person for three to five hours of fun after-park hours.
Now, some will absolutely not regret spending money on after-hours events. Mickey's Not-So-Scary Halloween Party is a prime example of an event perfect for those who love Halloween and would enjoy the special party-exclusive entertainment, food, and more.
However, if you won't be able to maximize the event, it may not be worth the premium cost. For example, if you or anyone in your group has an early bedtime and won't be able to stay up late, you would only get a small bit of time out of a late-night after-hours event. These events only give you a limited amount of time, so if you wouldn't be able to use as much of it as possible, it may be a price tag you end up regretting.