A Professional Stylist Combs Through 5 Of TikTok's Trendiest DIY Haircuts
Tempted to try giving yourself the viral butterfly cut? Cosmetologist Shantella Rios has advice.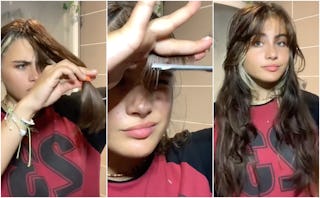 @Lilyrosedelf/TikTok
During the pandemic, Americans took on the terrifying task of cutting their own hair. Now, the world has opened up, and the trend is picking up speed. On TikTok, DIY haircut videos have nearly 500 million views. The average woman's haircut costs $65, so the "free" price tag on an at-home trim looks pretty tempting. But as appealing as it sounds, you might end up looking like, well, someone who cut their own hair.
We combed through popular TikTok haircut tutorials and showed them to Shantella Rios, licensed cosmetologist and owner of Tame Ur Mane Studio. She's here to help, so drop your scissors and read her tips before you start snipping.
The Butterfly Haircut
Let's begin with the current craze: the butterfly haircut. Stylist and social media influencer Brad Mondo popularized the look, and TikTok videos related to this haircut have now racked up 1.2 billion views.
In Mondo's butterfly TikTok video, he parts the hair horizontally from ear to ear. Then, he makes a "unicorn ponytail" at the front and an "Ariana Grande ponytail" at the back. Finally, he takes a big snip out of each.
In an ideal world, you can DIY this style and look so glamorous that people will mistake you (or your hair) for Matilda Djerf. In reality, your homemade butterfly might not look so smooth. At least, that'll be the case if you only watch Mondo's 35-second TikTok before you start chopping.
Rios notes that the video doesn't give detailed advice about how much to cut or how to refine the look. "A true butterfly cut has blended soft layers throughout," she says.
Don't worry. Being a legit all-star stylist, Mondo provides tons of pro advice — over on YouTube. He has a beautiful 12-minute butterfly hair tutorial with all the detail you need.
The Wolf Cut
Before the butterfly cut, there was the wolf cut. The wolf cut is a shag-mullet mix.
For a DIY wolf cut, make a ponytail at the top of your head, slightly more towards the front. Then, lift the hair straight up and cut straight across. Next, create face-framing layers and curtain bangs by sectioning off the front and cutting at an angle.
There are tons of wolf cut videos on TikTok and rising to the top is user @Lilyrose, who has claimed 4.6 million likes and plenty of praise for her tutorial.
But, for all of the good videos, there are plenty of fails. And honestly, those big blubbering fails might be more helpful. User @Katiedotcom hacked off her hair in a wolf cut fail video that has now entertained millions of people.
Let's learn from her mistakes. First, she doesn't wash or dampen her hair, an essential step for any haircut! Next, she places the initial ponytail too far back, then her second ponytail for face-framing is cut too short. Katie's loss, our gain: do not make these mistakes!
The Bob
Do you want to be the bee's knees with a 1920's style bob? TikTok's most-liked bob video is super inspiring, but it's not super helpful. It shows the hair being split in half and then pulled forward into ponytails to be cut. Then, the person trims, twists, and blow-dries in a flurry of magic that ends with a gorgeous, bouncy bob.
"How do people do this, I'd ruin my hair," commented @Kaynimex.
According to Rios, following that popular bob video might indeed ruin your hair. "Pulling the ponytails to the front will give you a V shape in the back, which is not desirable in a bob haircut," Rios says.
Instead, make one low ponytail in the back and cut above the elastic for a perfect bob haircut. YouTube has a more detailed video showing the method.
The Side Shave
Before we get into the nitty-gritty of side shaves, let's take a moment to applaud every brave-ass woman who has razored her head on TikTok for the sake of education and entertainment.
In an impressive video, user @ivyt05 transforms her curls into a rockstar side shave. To begin, she sections off an area and pulls the hair into a ponytail. She uses household scissors to cut at the ponytail, and afterward, she shaves off the remaining hair in the sectioned area. Once finished, her hairstyle looks totally punk rock.
Although the hair came out great, Rios has tips. She always recommends using professional tools. "Hair-cutting shears are essential to a great haircut," Rios says. "The blades are sharper and will give a more precise cut due to the quality of the steel used in crafting the shears."
Rios also recommends using guards for clippers. Guards make it easier to control the length. Most clippers come with guards that have a length written on them to show how long the hair will be after the cut.
Curtain Bangs
When you're feeling romantic, curtain bangs add the perfect amount of mystique and drama. That's right — artfully draped tresses are not just for celebrities like Zooey Deschanel and Dakota Johnson. You can have them too, and you can do it yourself at home.
Such a smoldering cut seems intimidating, but we found a straight-forward curtain bang video that 2.3 million people liked enough to click the coveted TikTok heart.
The video shows how to section your hair into a center triangle, twist, cut, then trim the remaining bangs at a gentle angle.
Pretty great, right? It gets better! To top it all off, the video ends with a quick look at how to dry and style your brand-spanking-new curtain bangs! Bravo, romantic curtain-hair girl!