Don't Be A Snob. RV Life Is Amazing.
We've learned that camping can be far from roughing it, if you want it to be.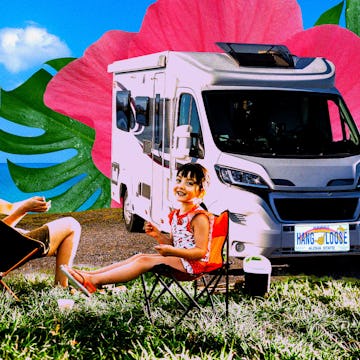 Ariela Basson/Scary Mommy; Getty Images, Shutterstock
I've been camping since before I could walk, as evidenced by an early baby photo of me taking a bath in a giant Coleman cooler on Cape Cod during the summer of 1984. My parents have had a slew of recreational vehicles — or RV's — in my lifetime. Pop-up campers with wobbly beds that unfold like origami, smaller travel trailers where I was crammed with my twin brothers onto a table-turned-bed, and even a horse trailer where my friends and I slept in on air mattresses at the county fair. (Ok, that last one probably doesn't count). In their retirement years, they sold the family cabin amidst much wailing and gnashing of teeth and bought a 28-foot Highland Ridge travel trailer instead. It's nicer than my first three apartments combined. It was the right choice.
Here's the thing. I've had friends say they "are not campers." The bugs, the lack of beds, the communal bathrooms. They've decided it's not for them. Camping, though, can look however you want it to. Yes, it can be delightfully primitive. I've backpacked for a week through Bryce Canyon National Park, sleeping without a tent under the stars and burying my poop with a shovel. I've crammed into a duct-taped four-person tent with six college friends because it was all we could afford. I've been in cabins, yurts, and all manner of nature-adjacent accommodations that exist. I've also taken my kids and their friends in my parents' RV for a weekend of creek walking, s'mores, and lounging on the leather couches for a movie after the mosquitos get too bad. RV life is pretty great, actually.
Some families are living in their RV's full time — many are even documenting their travels on social media like our friends Family of Nomads and TryNsomething New. They're shifting the idea of what RV life is really like, and fans are here.for.it. It's a home on wheels that provides a comfortable place to reset and recharge after a day of exploration. It's freedom unbound by the limitations of traditional hotels. When we aren't camping, my kids are watching reels of other people camping.
I am not sure if my family will ever buy our own RV and live on the road full-time, though it's a pipe dream of mine. In the meantime, we plan to enjoy the access to wild and wonderful places that RV life gives us during long weekends and summer vacations. We camp with my parents, borrow their trailer, and are even renting one when we visit Presque Isle in Erie, Pa. this summer. The explosion in popularity of RV life means any family can try their hand at a swanky camping weekend if they want. When we aren't using it, my parents even rent theirs out to other families (Or lend it; they are the most generous people I know.)
Listen, we are not bougie. My kids know how to rough it and they are just as happy in a tent as an RV. As a mom of four kids though, the conveniences of recreational vehicles allow me to actually enjoy the trip as well. I tuck my kids into bunk beds where they do not have to touch each other — i.e. fight. The refrigerator runs on propane until we reach our destination, so I can pack it up with food before we hit the road rather than fuss with ice and a cooler. An actual bathroom with a flushing toilet is clutch when potty-training, and my nearly-40-year-old back certainly likes the queen bed more than a forest floor. We often still cook over the campfire, but the chance to make cinnamon rolls in the tiny oven or boil some ramen for my pickiest eater cuts my camping stress level in half. It's the best of both worlds.
Last weekend we went to one of Pennsylvania's many state parks with my parents. State parks are a family favorite: free ranger programs abound, from kayaking and boat rides to information sessions on local wildlife. Kids in these low key campgrounds run around a bit feral. Campground culture involves collective parenting and allows kids the freedom they may not have at home. I watched my own kids run and play with a group of Amish children as they giggled and threw rocks in the lake. They don't have much in common at first glance (aside from the fact that they all were wearing Crocs), but given a sandy lake beach and some flat skipping rocks, they became fast friends.
We will continue to take our kids on camping adventures of every kind, especially as they get older and can handle different experiences. For this season and stage of life, though, why not choose both creature comforts and a front-row seat to nature? No matter how or where we camp, I end my evenings the same way. It doesn't matter if I am about to roll myself into a sleeping bag or onto a posturepedic mattress… I am always the last one around the campfire, munching on a mountain pie with a good book on my Kindle.
Meg St-Esprit, M. Ed. is a journalist and essayist based in Pittsburgh, PA. She's a mom to four kids via adoption as well as a twin mom. She loves to write about parenting, education, trends, and the general hilarity of raising little people.