With Food & Financial Insecurity On The Rise, Families Plunge Into Dumpster Diving
Videos on #dumpsterdiving have racked up more than 4 billion views on TikTok.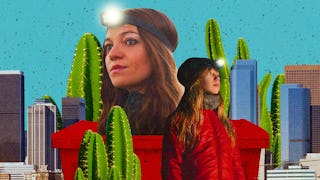 The economy has gone into the dumpster, and families are diving in after it — literally.
Since inflation spiked in 2021, there has been a significant increase in "dumpster diving" searches, and social media is flooded with jaw-dropping "dumpster haul" videos. On TikTok alone, #dumpsterdiving videos have received more than 4 billion views.
To top it all off, this year's decrease in retail sales has left companies tossing out unsold merchandise. In fact, $163 billion worth of inventory is wasted each year, according to a recent report.
The waste is an environmental nightmare and a tragedy for those living in poverty. But it's also dumpster diving "gold," so families are jumping in to save toys, food, clothing, and other products from landfills.
Tales From the Trash
One mom ended up in a dumpster after her 11-year-old daughter relentlessly begged her to go.
"I got bullied into going," says Sarah Cornell. Her daughter saw people diving for iPhones, Nintendo Switches, and Squishmellows on TikTok. For months, she pestered Cornell to try it, and eventually, Cornell agreed to go one time to show her daughter that it would not be like the TikTok videos.
"The first time we did it, it was the biggest hit ever," Cornell says. "She found all the things I said you would never find in a dumpster."
At Five Below, the mother-daughter duo found brand-new plushies, notebooks, and gel pens. Next, they uncovered lotions, soaps, and jar candles at Bath and Body Works. Finally, they wrapped up at Ulta, where they dug up high-end hair dryers.
After the first trip, Cornell's daughter was invigorated and wanted to go again. Cornell made a deal with her to go occasionally, and since their first trip, they have discovered many other goodies. They even rescued a beta fish from a pet store dumpster.
Cornell and her daughter scavenge retail store dumpsters, but there are other approaches to dumpster diving.
Mandy Walts started jumping into dumpsters while working in construction 20 years ago. She noticed that valuable materials were being thrown away, so she took usable items and incorporated them into craft projects. Walts turned the trash into photo blocks, bottle cap charms, and home decor. She recruited her husband to help, and ultimately, they opened an upcycling business called Waste Not Recycled Art.
Just like Cornell's daughter, Walts' children loved going on dumpster adventures, but they were not allowed to participate since she was collecting from construction sites.
"My kids thought it was pretty cool," Walts said. "Sometimes they were in the car with me, but I didn't let them get in the dumpsters. Never know what they could get hurt on."
The Disclaimers You Knew Were Coming
Safety is a big concern for dumpster divers. Experienced divers wear thick-soled shoes, gloves, and long-sleeve clothing that fully covers the body.
Veterans divers don't go alone, either, since dumpster diving has been tied to injury and even death. A North Carolina woman was tragically killed in 2020 while diving. Surveillance videos revealed that she was inside a shopping center dumpster when it was emptied by a garbage truck.
The legality of dumpster diving varies depending on local laws. It is always illegal when dumpsters are locked, labeled with no trespassing signs, or located on private property.
Beyond legality, it's not an activity for the squeamish.
"If you go to a pet store, be cautious," Cornell warns. "Sometimes you'll find an animal." These animals might be living or dead. Once Cornell and her daughter found dead hamsters, so they decided to avoid pet stores. Other divers have posted videos of finding healthy pets, including one woman who found a box full of live fish at Petco.
What the Companies Who Own the Dumpsters Are Saying
Of course, companies tend to dissuade people from sifting through their discarded merchandise, and critics point out the dangers of using — or eating — trashed items.
Naysayers point out that refrigerated food may be spoiled, and grocers trash items that have been recalled. They also tend to throw out food that customers return to the store.
Despite this, food hauls are popular on TikTok, like the dumpster diving nurse who racked up 4.6 million views in a viral video showing off her free lunch of a cauliflower pizza and fruit smoothie. Another food hauler in Vancouver gained attention due to his altruistic D-Mart (dumpster mart) that feeds people in need.
Although the companies stress that the trash could be dangerous, many dumpster divers swear they find tons of perfectly good merchandise. And as long as those divers keep posting hauls on TikTok, there will be no shortage of people headed to the dumpsters... for better or worse.
Editor's Note: The views expressed in this article belong to the author and the subjects interviewed and do not necessarily reflect the opinions and positions of Scary Mommy. This is the exploration of a trend, not an endorsement of this activity.