A Facebook Glitch Was Sending Friend Requests To Any Profile You Viewed — And Now People Are Panicking
Are we all dying of embarrassment now?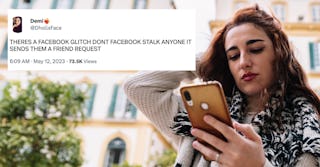 Twitter/ @DhollsFace; Antonio Hugo Photo/Moment/Getty Images
Ready to feel mortified? Meta — Facebook and Instagram's parent company — has apologized for a glitch that caused Facebook users to send automatic friend requests to any profile they viewed.
So, if you just so happened to feel the the urge to go creep on your college ex-boyfriend's new wife and their wedding photos (not that I can relate...), this is probably some bad news. Hey, we can go crawl in a hole and die together, OK?
A spokesperson for Meta told The Daily Beast that the bug has been fixed and was an error during a Facebook app update.
"We fixed a bug related to a recent app update that caused some Facebook friend requests to be sent mistakenly," a spokesperson said. "We've stopped this from happening and we apologize for any inconvenience this may have caused."
Facebook users were rightfully embarrassed by the glitch — and suddenly receiving friend request acceptance notifications from people they recently viewed but did not friend. Review Geek even successfully reproduced the bug, which appeared to only affect the Facebook mobile app.
"This bug occurs so quickly that you'll hardly notice it," the outlet reported.
"Upon visiting a stranger's profile, the 'Add Friend' button automatically changes itself to 'Pending.' There isn't a warning, a popup, or anything else that indicates you've sent a friend request. The only way to avoid the bug is to avoid strangers' Facebook profiles."
Several Facebook users moved over to Twitter to air their complaints over this embarrassing error.
One user joked, "Facebook stalking and somehow a friend request was sent. thats it guys. see u in another life."
Another wrote, "FYI: there's a glitch on Facebook where if you click on a profile under the "people you may know" tab it auto sends a friend request to that person. Just a warning. Now if you'll excuse me, I have a bridge to do a swan dive off of."
Others did not see the humor in the glitch that will certainly send many into hiding, worried that it was a bigger issue about user privacy. Every Facebook user should be able to stalk in peace, right?
"#Facebook probably in breach of some privacy laws with the new glitch — notifying people you viewed their profile and giving them unsolicited access to your private profile data," one user pointed out.
Another echoed, "@facebook are you going to sort out this new friend request glitch?! 4 requests sent today and all I have done it clicked on a profile, I've also had a few sent to me. Surely this is a privacy issue! #Facebook"
Whether a privacy issue or just plain humiliating for users, this glitch is a mark against Meta, who now have a bunch of pissed off users who don't trust their technology.
If you start to see a bunch of random friend request acceptances come in, like, from your neighbor down the street, your kid's teacher, and that one woman who is always posting the most wild stuff in your local Mom Facebook Group, then you're most likely a victim of the glitch. May the odds be ever in your favor.