This Gadget Turns 3 Simple Ingredients Into A Powerful Disinfectant
We only recommend products we love and that we think you will, too. We may receive a portion of sales from products purchased from this article, which was written by our Branded team.
Written by Casey Clark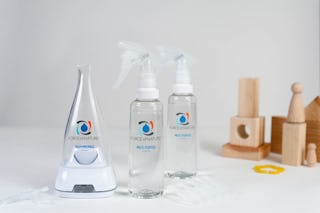 Courtesy Of Force Of Nature
When the kiddos walk in the door after school, it's game over. Dirty shoes, unwashed hands, instantly sticky countertops — the whole shabang. Truth be told, I'm a cleaner at heart: If there's any kind of dirt, I'm going to want to get rid of it ASAP. You'd think I'd have no problem since under my sink is a whole collection of kitchen cleaners, bathroom cleaners, glass cleaners, sponges, etc. But in reality, all that cabinet clutter can just add to the chaos — especially when you aren't sure about all the unpronounceable ingredients in said cleaners. Then I met Force of a Nature, an all-in-one cleaning product without any of the scary stuff.
Prepare for a full cleaning cabinet purge.
How It Works
Force of Nature is a truly nifty cleaning gadget that utilizes patented technology to create an all-in-one cleaner, deodorizer, and EPA-registered disinfectant perfect for cleaning the entire home. Because who doesn't love a triple-threat?
The tiny appliance uses electricity to convert salt, vinegar, and water into a toxin-free cleaner as effective as bleach. Seriously – it kills 99.9 percent of viruses and bacteria and works on just about any surface.
To create the solution, all you have to do is fill the Force of Nature device with water and then add one of the pre-measured capsules of salt, water, and vinegar. Push the button on the device's base and it quickly converts the solution into a powerful, multi-surface cleaner (sans any toxic chemicals, mind you, so it's both kid and pet friendly — extra brownie points). Then just add the solution to the spray bottle and start spritzing.
Overall Thoughts
Personally, I was blown away by the results: I didn't spend an arm and a leg on house renovations to have my granite countertops be dirty all the time, and after wiping them down with the Force of Nature cleaning solution, my formerly dirty kitchen counter and greasy stove top looked brand spankin' new.
On top of that, I felt confident that they were actually clean since it's so powerful it kills germs like MRSA, staph, salmonella, norovirus, and more. It's also EPA-approved for use against Covid-19. Plus, there's no need to rinse, so it even saved me an extra step (score) and the reusable bottles let you eliminate excessive plastic waste (environmental score).
And with an entire year's worth of cleaning products included in their Year of Capsules Bundle, this cleaner is honestly a win for your wallet, too: Force of Nature reports that their cleaner can save you up to 80 percent per ounce compared to traditional grocery store products.
And Scary Mommy readers can save even more by using the exclusive promo code SCARYMOMMY for 30% off.
See you never again, all other cleaners.