Looking To Keep Your Kids Busy This Summer? Try These FREE (Or Almost Free) Programs
Food, cheap entertainment, and more!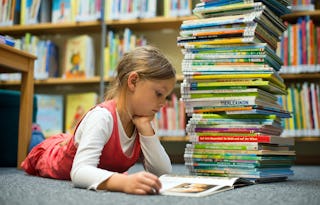 picture alliance/picture alliance/Getty Images
Summer is here, and you know what that means: The kids are out of school for a couple of months, giving them all damn day to drive you crazy and eat you out of house and home!
Before you start pulling your hair out, take a look at this list of free (or almost free) summer programs for kids and teens designed to get them out of the house. Think free food, cheap entertainment, programs to help keep their bodies and minds healthy, and even opportunities to volunteer in their community.
Nutrition
School-provided meals ensure kids have access to food during the school day. Aside from giving parents a break from packing daily meals, they also help keep food budgets down. And with the cost of food at record highs, free summer food programs are a much-needed resource for many families.
Sports & Fitness
P.E. classes may be on pause, but there are still ways to keep kids active and entertained this summer, thanks to these programs that offer free gym memberships and sports activities for kids and teens.
Educational
Keeping those brains sharp during summer is easy to do with these free summer reading programs and free entrance to museums.
Arts & Crafts
Kids who love to craft are sure to enjoy these free maker classes that will allow them to get hands-on with their creative sides.
Community Service
With no homework and a lot more free time, summer is the perfect time to get kids involved in helping out in their communities. They can serve and prepare meals, mentor youth, provide care for animals in shelters, clean up and beautify their communities, and more.
Entertainment
Check out your local parks and recreation department to see if they're hosting any summer park programs. They're a great way to get kids outdoors, and many offer safe and free activities and entertainment. Can't find one in your community and have kids who want to hit up a movie or two this summer? No worries; many movie theaters offer super-discounted movie tickets for kids.