Turns Out My 8-Year-Old Just Wants A Good, Old-Fashioned Summer
Besides the Disney request my kid's dream summer never included anything over-the-top but really simple ideas like visiting a hot dog stand.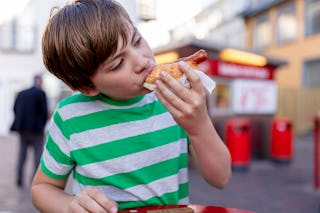 EMS-FORSTER-PRODUCTIONS/DigitalVision/Getty Images
It was meant to be a time-suck (albeit still cute and thoughtful) when I suggested to my eight-year-old that we should make a summer bucket list. He was immediately thrilled with the idea, collecting fresh markers and making sure I cut off an extra large piece of banner paper for all his musings. And he was busy for quite a while, brainstorming and creating his list. Finally, he requested that I take a seat for the big reveal. And as he taped it to the wall I glanced up to see a classic summer list, with a few comical and unexpected curveballs.
I braced for impact as he cleared his throat, and announced the first item on his summer agenda. Disney World, sh*t — I should have laid some ground rules. Whoops! I quickly interjected and told him that anything that required a plane ride could go on the Life Bucket List, as it might not happen this summer. I'm pleased to say he handled it pretty well.
Next up was "swimming in a lake." Phew! He reminisced about last summer when he swam to the bottom of lake in New Hampshire and found a new fishing rod — tags still on! He excited himself talking about jumping off docks, snorkeling in the lily pads, and baiting his rod with a freshly caught worm. It was a vision of summer at its finest, as far as I'm concerned, something straight out of an old movie.
Then came "visiting a hotdog stand." A true foodie after my own heart. Youtube has recently educated him on all the different styles of hotdogs (apparently there are many), and he is determined to try them all. As a novice hotdog eater myself, I was a little shaken hearing him talk about all the fixings, including pickles, onions, tomatoes, lots of sauces, and cheeses. I think he might have even mentioned peanut butter at one point. I can't imagine he's got that right. But I found some hotdog joints pretty close by, so that's handled.
The next thing had a star next to it, so I assume it is non-negotiable. "Have a Lemonade Stand" …and then in parenthesis: "on the main road with Venmo." A real budding businessman, apparently. When I asked for some details, he talked about going to the Dollar Tree to get everything he would need. He also argued strongly for the importance of accessibility and traffic on the main road, clearly (according to him) outweighing any risks of danger. Then he informed me that no one (me) ever carries around cash, so Venmo is the obvious option to maximize success. Oh, and he's hoping for tips.
After that, the list started to get a little complicated. Nothing too over-the-top, just weird and maybe difficult to achieve. Like winning a game of basketball on a chain net, or driving in a freshly washed convertible. There was also catching a bird and keeping it as a pet, and cooking grilled cheese while swimming in the pool and getting a hole-in-one at the golf course. The list ended with a backyard tent sleepover, which he tried last year but made it nervously inside by about 9 pm.
Overall, I think we are in good shape for a successful summer by his standards. I will brush up on my lemonade mixology, find directions to all the best hotdog stands, and gas up for a lake-side adventure. I will tell my dad to hide a ball in the hole at the golf course to fake a hole-in-one and keep my eye out for a basketball hoop with a chain net. He's sh*t outta luck on the pet bird.
And I will do my best to complete his wild and creative list, because these young and free summers are gone way too fast. So I might as well throw some peanut butter on my hotdog.
Samm is passionate about sharing her honest, raw, unfiltered truth about motherhood. She loves newborns, statement sunglasses, Justin Bieber, and a well-placed F bomb. She is a complicated introvert, giving most of her energy to her chaotic household but she is a foxhole chick. She is currently working her way into the next stage of life beyond the years of babies – and while she is a little sad and nervous, she is hopeful for what is next.