190+ Funny Dirty Names That Are Immature But Hilarious
Hey, Bart Simpson walked so we could run.
by Team Scary Mommy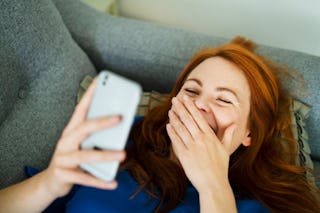 Tim Robberts/Getty Images
If, like Bart Simpson, you were a fan of prank-calling local establishments and asking to speak with individuals like "I.P. Freely," then you are familiar with the joy that comes from a particularly funny dirty-ish name. You're not alone in looking for some inspiration in that direction. In fact, according to the latest search data available to us, "funny dirty names" gets searched thousands of times per month! Some dirty name lists out there are obviously pretty awful, full of sexist, and racist overtones, something we have eschewed in our roundup below.
Whether you use this list to entertain your friends, fodder for a grownup game of truth or dare, or as a primer on what not to name your next child, let this be your guide to the silliest, most LOL-inducing names out there. So, without further ado, here are funny dirty names that will have you giggling like a child.
And, oh! Before you indulge your inner 5th grader, why not check out our package on all things dirty? We've got dirty truth or dare, dirty knock-knock jokes, dirty riddles, and dirty pick-up lines, among others. Go on; lean into your immaturity for a moment. The world is full of seriousness... it's OK to be unabashedly naughty every now and then.
RELATED: Yes, My Kids Have Weird Names — So What?
Ader Titsoff
Adolf Oliver Nipple
A. Nellsechs
A. Nelprober
A.S. Muncher
Amanda D. P. Throat
Amanda Hugginkiss
Amanda Hump
Amanda Lick
Amanda Mount
Amanda Poker
Andy Cornholder
Andy Feltherbush
Andy Felthersnatch
Anita B. Jainow
Anita Bath
Anita Dick
Anita Dickenme
Anita Dump
Anita Fartinghouse
Anita Hanjaab
Anita Hardcok
Anita Head
Anita Hoare
Anita Naylor
Annie Position
Anya Neeze
Annie Position
Banana Hammock
Bartolos Colonoscopy
Bea O'Problem
Ben Derhover
Ben Gurgen Hoffe
Ben N. Syder
Ben O. Verbich
Ben R. Over
Benoit Bawles
Berry McCaulkiner
Betty Drilzzer
Betty Humper
Betty Humpter
Betty Phuckzer
Bruce D. Cocque
Bo N. Herr
Brooke N. Rubbers
Bruce D. Cocque
Bruce D. Lipps
Buck Nekkid
Buster Cherry
Buster Himen
Clee Torres
C. Mike Rack
Cole Ostamie
Colin Forsecs
Connie Lingus
Craven Moorehead
Curley Pubes
Dang Lin-Wang
Daryl B. Payne
Dick Long
Dick Myaz
Dick Nose
Dick Pound
Dick Ramdass
Dick Raasch
Dill Doe
Dixie Normous
Dixie Rect
Dixon B. Tweenerlegs
Dixon Butts
Dixon Kuntz
Drew Peanoze
E. Norma Scock
E. Norma Stits
E. Normous Peter
E. Rex Sean
Eaton Beaver
Eileen Ulick
Eaton Beaver
Eileen Ulick
Fluffy Cookie
Gazzy Colon
Harry Azcrac
Harry Cox
Harry Johnson
Hairy Poppins
Heywood Japulmah Finga
I. C. Yadick
I. P. Freely
Ivana Tinkle
Jenny Tayla
Kenny Dewitt
Laffmy Titsoff
Kareem O'Weet
Lance Lyde
Lee Keyrear
Lee Nover
Leo Tarred
Lipin Jection
Lou Briccant
Lon Moore
Lou Sirr
Luke Atmyass
Madka Owdiseez
Martha Fokker
Marion Money
Mark Z. Spot
Mary Juana
Master Bates
May I. Tutchem
Maya Buttreeks
Max E. Mumm
Max E. Pad
Mel Keetehts
Michael Toris
Mike Rotchburns
Miya Buttreaks
Nadia Seymour
Nick O' Teen
Oliver Closeoff
Ollie Tabooger
Pat Myaz
Patty Meltt
Phil Down
Peter Pantz
Pierre Pants
Phil Accio
Poppa Woody
Rhoda Hotte
Robin D. Craydle
Roch Myaz
Ron Chee
Rueben G. Spaut
Sal Ami
Semour Asscrack
Seymour Buttz
Sheeza Freak
Stella Virgin
Ura Snotball
Vye Agra
Vye Brator
Wayne Kerr
Willie B. Hardigan
Willie Eetmioutt
Willie Layer
Wilma Dickfit
Wilma Fingerdoo
Yuri Nator
Funny Names of Sexual Positions
149. Far King Hell
150. Butter Churner
151. Tiger Style
152. The Left-Handed Stranger
153. The Abe Lincoln
154. Say Hi To The Brown Eye
155. The Couch Potato
157. Upstanding Citizen
158. Scoop Me Up
159. Captain Morgan
160. The Pretzel
Funny Names From Pop Culture
161. Honey Rider, Dr. No
162. Steve Stifler, American Pie
163. Allota Fagina, Austin Powers: International Man Of Mystery
164. Breathless Mahoney, Dick Tracy
165. Dirk Diggler, Boogie Nights
166. Holly Golightly, Breakfast At Tiffany's
167. Hot Lips O'Houlihan, M*A*S*H*
168. Sugar Kane Kowalczyk, Some Like It Hot
Unique Funny Dirty Names
Each name is special, while some are pretty hilarious. Part of what makes this list of names so funny is that they belong to actual people. The names below are so unique and strange you might just think we made them up. But the truth is they really belong to real people, which makes them that much more hilarious.
169. Shelby Warde and Joe Looney
170. Kelly Ann Long and Eric Paul Wiwi
171. Dick Passwater
172. Fabulous Flournoy
173. Hans Ohff
174. Zig Steenine
175. Watson Herbusch
176. Tal E. Whacker
177. Stacy Rect
178. Marijuana Pepsi Jackson
179. KVIIIlyn
180. Edward Cocaine
Even More LOL'inducing Dirty Names
181. Erin Gobraless
182. Fonda Cox
183. Harry Balsack
184. Bouncy Nuggets
185. Barry Mapole
186. Tokyo Sexwale
187. Batman Bin Superman
188. Beezow Doo-Doo Zopittybop-Bop-Bop
189. Emerson Bigguns
191. Willie Stroker
Are you looking for an actual baby name for your little tot that isn't a joke? We've got comprehensive lists for middle names for boys, one-syllable names, unique middle names for girls, last names as first names, nicknames as first names for your kiddo, and so much more!
This article was originally published on