Gen Z Is Leaving Behind Toxic Millennial And Gen X Dating Tactics
The days of "ghosting" may be history for our kids.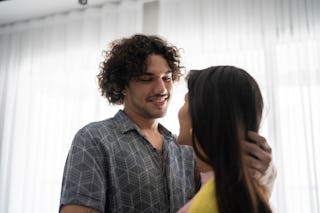 FG Trade/E+/Getty Images
Gen Z has no problem bucking the trends. They condemned skinny jeans, brought back the middle part, and truly, actively are working to have a hand in altering the world of politics by marching, speaking at rallies, and organizing for change. They are also challenging the way we date.
According to Tinder's 2023 Future of Dating Report, Gen Z's is disrupting dating and relationship norms perpetuated by previous generations and are ready for something much more direct and open. Goodbye dating games and hello straight-forward conversations!
According to the report, 75% of Gen Z feel they are changing the dating and relationship standards that were passed down to them. Tinder reported that 50% of their user base are made up of 18–25 year olds.
The report also suggested that the days of "ghosting" are gone. According to Psychology Today, ghosting is the act of abruptly ending communication with someone without any explanation. This often happens in romantic relationships, especially online, but Gen Z is ready to end that trend. The report found that 18–25 year olds are 32% less likely to ghost someone than people over the age of 33.
Remember waiting a couple hours before responding to a text message as to not come off desperate? Yeah, Gen Z doesn't play those kinds of games.
Seventy-seven percent of Tinder users respond to a match within 30 minutes, and 40 percent respond within five minutes.
The report also suggests that Millennials are thrilled with these new developments, with over half over surveyed stating that dating is healthier for 18–25 year olds than it was when they were that age.
Seventy-three percent of 33–38 year olds said that old school dating games, like playing hard to get or purposely giving mixed-signals to draw attention were "normal" when they were Gen Z's age.
When it comes to what Gen Z appreciates most when it comes to a proper dating interaction, they just want something real. Authenticity topped the list when it comes to what younger daters are looking for.
Seventy-eight percent of Gen Z surveyed said they prioritize respect in partners. Loyalty and open-mindedness came in second and third.
Meanwhile, unsurprisingly, 56% said that physical appearance was also very important to them.
An overwhelming 80% of 18-25 year olds say their own self-care is the most important aspect when dating. That same group also wants their potential partner to also put themselves first. Nearly 75% of young singles say they find a potential Tinder match more attractive if they're open to working on themselves and their mental health.
"In 2023, Tinder is largely used by Gen Z. This is a group that continues to influence society and challenge constrictive norms in the most profound of ways. No other generation has made such a huge impact on the workplace, retail consumption, technology, politics and culture," says Faye Iosotaluno, COO at Tinder.
"It is this generation that we believe are driving the most change that we've ever seen in how we date, who we date and what dating actually is."
Because of Gen Z's straight-forward, no B.S. approach to dating while also prioritizing mental health, Tinder's global relationship insights expert, Paul Brunson believes that "Gen Z will have the most successful marriages yet."
That whole "You can't love anyone until you love yourself" motto might actually be true. Yes to healthy, stable relationships! The kids are all right.