Gen Z Cannot Believe What Was Considered "Thick" For Women In The Early '00s
Lizzo (and several millennials) gave them a lesson in '00s toxic body culture.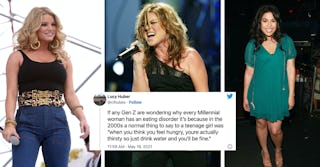 Logan Fazio/Kevin Winter/Dimitrios Kambouris/WireImage/Getty Images/Getty Entertainment
Most grown millennial remember just how toxic body culture was in the '00s. Every magazine cover either had a photo of Lindsay Lohan with her bones poking out and the headline, "SCARY SKINNY" or a shot of Jessica Simpson, looking totally normal, with an entire story about how she's let herself go post-divorce. It was wild times.
The media was relentless when it came to famous women and their bodies. It did not matter what size they were, there was something to scrutinize.
The '00s were also the days of Special K and Atkins and that annoying joke in Love Actually where they comment on a "chubby" character's "tree trunk" thighs for the whole freaking movie even though she's perfect and gorgeous.
When a Twitter thread went viral from user @Whitleysdaughtr, reminding people just how brutally toxic the '00s were by detailing women who were considered "thick" in the '00s, Gen Z could not even fathom.
"Another reminder of the women we considered 'thick' in the 2000s," they wrote alongside a photo of actress LisaRaye McCoy.
After several Gen Z Twitter users got in on the conversation, a few older Twitter users came back to tell them what's what.
"Not people born after 93 in this conversation at all. Lol Lisa was 100% called thick. J Lo was considered having a big booty. Thick was a size 6. Everyone is conditioned to calling size 16 thick now. That was fat in 2004. FYI," another user replied.
Jennifer Lopez, who was known as "thick" for her amazing butt in the '00s, would now be considered tiny based on 2023 standards.
"JLo had people going crazy over what would be considered a teaspoon of a** these days The standards of thick have definitely evolved," one user wrote.
"Lmfao. My brain won't let me call them thick anymore. Conditioning is real! Jennifer had a portion of ass and we all lost our minds …" another replied.
Kim Kardashian and singer Jordin Sparks were also brought up in the conversation, noting that when Sparks had a dramatic weight loss, the public praised her. Something that happens so often with weight loss.
When Gen Z could not comprehend this kind of group think, one Twitter user explained that it's hard for them to imagine that kind of culture through a 2023 lens.
"They're looking at it from 2023 lenses and don't remember the past. They can acknowledge that skinny was very much in, but can't believe slimmer women with bigger butts and breast were considered thick," one user wrote.
Lizzo, an advocate for body positivity and acceptance, chimed in on the viral Twitter conversation in a TikTok.
"So right now there's a thread on Twitter. A reminder of the women we used to consider thick in the 2000s and this is LisaRaye. As you know, LisaRaye is beautiful. In the early 2000s, she was considered the definition of thick," Lizzo starts.
"Another one of our 2000s thick icons is J.Lo, whose booty was super duper duper praised for being juicy and big and thick and dump-truckish."
Lizzo then notes that there are some younger people who do not understand how any of these women were considered "bigger."
"However, I noticed in the comments that people don't believe these tweets. There are people who are like, 'You just be saying anything. This isn't true. This isn't thick.' And it's important to note that a lot of these people were not born yet. Or they were babies in this era," she continued on TikTok.
"I'm not here to convince you that beauty standards were different. And I'm not here to convince you that this was considered fat in the early 2000s and that this beautiful body was considered unhealthy in the early 2000s."
She went on, "What I am here to do is just remark on how quickly the conversation in culture can change. All it takes is 20 years to completely erase an idea, a thought, a pattern, a behavior, and the way we treat people. The way we talk about people."
"It doesn't take much to re-shift a narrative and to change a paradigm. Being an early pioneer in the body-positive movement and watching you evolve to body neutrality is humbling. It's an honor. Watching the definition of thick go from J.Lo to Beyoncé to Tacarra to Precious Lee has been a dream to watch."
Lizzo concluded, saying, "This is a reminder that there's always going to be a new conversation. There's always going to be a new fight, and every movement offsets the next movement. The status quo is meant to be pushed, it's meant to be evolved. So, if you feel like the outlier, or if you feel like you're not like everybody else, keep being yourself and watch the world catch up with you."
Lizzo has long been an advocate for those in bigger bodies, calling for acceptance and proper representation in the media. When the "About Damn Time" singer took home an 2022 Emmy for Outstanding Competition Program for her Amazon series, Lizzo's Watch Out for the Big Grrrls, which documents her search for backup dancers.
Her acceptance speech sent a message for people everywhere who have never felt like their body was positively represented in media.
"I'm very emotional," Lizzo said tearfully. "The trophy is nice, but my emotion is for these people who are on this stage with me. The stories that they share, they're not that unique, they just don't get the platform telling stories. Let's just tell more stories."