Why You Should Ditch Your Next Disney Trip & Go To Universal Instead
Let's talk about the OTHER Orlando theme park...
by Morgan Flaherty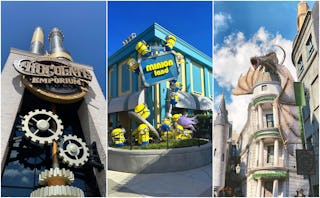 Julie Sprankles
I unabashedly love Disney World. The nostalgia, the rides, the food, the characters… it's enough that I made being a Disney adult into a full-time career that has allowed me to visit the parks dozens of times over the past several years.
So, with all that being said, the next thing I'm about to recommend to you may be a little surprising. Because what I'm going to tell you is that I think you should skip your next Disney World trip and opt for a trip to Universal Orlando instead.
A Comparison of Universal Orlando vs. Disney World
While Disney World may be the theme park that immediately comes to mind when you think of Orlando, Universal Orlando is another major theme park in the city. While Universal has garnered a bit of a reputation for being a park for "older kids" versus Disney, the options at the parks actually range across a variety of ages and interests.
Universal Orlando opened in 1990 with rides, attractions, and live shows themed to the movies and entertainment industry. In 1999, the park expanded to add a second gate, Islands of Adventure, later adding Volcano Bay water park in 2019.
The resort has undergone many different iterations in its history, with one of its biggest transitions happening in 2010 with the addition of The Wizarding World of Harry Potter at Islands of Adventure. Since then, the parks have continued to grow, adding more from the Harry Potter franchise and a recently opened section based on the Minions of Despicable Me.
Let's look at a general comparison of what you can find at Disney World and Universal.
Universal Orlando:
Two theme parks: Universal Studios Florida and Islands of Adventure (a third, Epic Universe, is opening in 2025)
One water park: Volcano Bay
CityWalk, an entertainment complex with shopping and dining
Seven on-site resort hotels
Walt Disney World:
Four theme parks: Magic Kingdom, EPCOT, Disney's Animal Kingdom, Disney's Hollywood Studios
Two water parks: Typhoon Lagoon and Blizzard Beach
Disney Springs, a massive shopping, dining, and entertainment complex
More than 25 on-site resort hotels
While Universal Orlando is in the process of expanding, overall, it's a much more condensed theme park versus Disney World. While Disney World's theme parks are all located a few miles from one another, Universal's CityWalk, theme parks, and water park are all within walking distance of each other.
Ticket Cost of Universal vs. Disney
Now, let's look into the pricing. At Disney World, a single-park, single-day ticket starts at $109 for ages 10 and up, with pricing dependent on which park you're visiting and at what time of year.
For example, at Magic Kingdom, which is typically the most expensive park, a single-day ticket could cost you up to $189 per person during the busier times of the year. If you want to visit more than one park daily, you'll need to purchase a Park Hopper. This will range in price from $164 to $274 per person per day for ages 10 and up.
At Universal, a single-park, single-day ticket will cost the same at either park, starting at $109 for ages 10 and up, and maxing out at $159 per person during busier times of the year. For a 2-park, 1-day ticket, pricing ranges from $164 to $214 for ages 10 and up.
Of course, pricing will depend on when you're visiting and for how many days, but in general, the pricing for Universal is a little bit less expensive for tickets. The biggest factor to consider is how much you can get done in a day.
Disney World's parks are more spread out and, therefore, more challenging to get between quickly. Universal Orlando is a much more condensed space, making it easy to travel between parks if you have a 2-park pass. Additionally, Universal is not subject to the same park hopping rules as Disney World. Through Jan. 9, 2024, you need to wait until 2 p.m. to enter a second park at Disney World, whereas Universal doesn't have any set rules for how often you can hop in between each park.
Universal Hotel Options
Universal Orlando has seven hotel options, offering a range of accommodations for different budgets. ​​Each of the hotels is within a fairly close distance to the park, with most located within walking distance.
Some major benefits come with staying on property at Universal. Guests at each hotel can get Early Park Admission, allowing access to select attractions at one of the parks up to an hour before the park opens.
But, the major benefit comes from staying at one of the Premier Hotels. You will get free Universal Express Unlimited if you stay at Loews Portofino Bay Hotel, Hard Rock Hotel, or Loews Royal Pacific Resort. This benefit will allow you and your party to skip the standby line at most attractions, a value that would typically cost $129 per person per day on top of your ticket price.
At Disney World, staying on property will get you Early Theme Park Entry (entry into the park 30 minutes before opening). Additionally, staying at a Deluxe Resort will get you access to Extended Evening Hours, which happen on select nights, and allow guests two hours of extra time in a park after closing. However, staying on property at Disney World does not give you free access to Disney Genie+, which is Disney World's paid option to skip the standby line.
Why Universal Isn't Just for Older Kids
When choosing between Disney World and Universal, one of the biggest complaints I always hear is that Universal is just for older kids. And while Disney World definitely does have more options available for the youngest of family members, don't count Universal Orlando out completely for kid-friendly attractions.
One of the biggest draws for kids of all ages is the Wizarding World of Harry Potter, which you can find at both Universal Studios Florida and Islands of Adventure. These completely immersive lands drop you right into the world of Harry Potter, with Hogsmeade located at Islands of Adventure and Diagon Alley (my personal favorite) located at Universal Studios Florida. The sections are even connected by the Hogsmeade Express, a ride you can take between the two parks if you have a 2-park ticket.
Another big draw for younger kids is the new Minion Land section of Universal Studios Florida. Fans of Despicable Me will love getting to step into this land, located right at the front of the park. The land includes the ride Despicable Me Minion Mayhem, along with the new Villain-Con Minion Blast attraction. You can shop at the store Evil Stuff, and you can currently enjoy Minion-inspired meals at Bake My Day, Freeze Ray Pops, and Pop-A-Nana.
Islands of Adventure is also home to Seuss Landing, where you can find rides, characters, and attractions based on the stories of Dr. Seuss! The land is surprisingly full and has plenty of options available for the youngest of guests.
While Universal may have plenty of options available for older thrill seekers, there are still tons of things for the smaller guests to do, too!
Listen, there's a certain nostalgia at Disney World that can never be replicated. As someone who used to go to Disney as a child, it's a must-do for myself and my family. But, as someone who also loves theme parks in general, I have been blown away by everything at Universal Orlando. While the park used to be something I would add on as a day or two with my Disney vacation, the cost and the amount available to do has made Universal a big-time destination in its own right.
So, don't sleep on the other major theme park in Orlando — it's well worth the trip.