overhyped or worth the price?
Disney Park Super Fans Are Sharing Their Picks For Most Overrated Food Items & Restaurants
Pineapple Dole Whips aren't on the list — don't worry!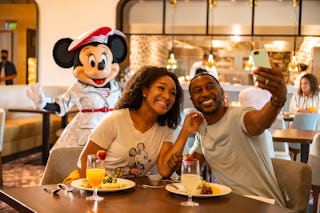 Handout/Getty Images Entertainment/Getty Images
One of the most alluring parts of the Disney park experience centers around the delicious and unique food items the parks offer visitors. From pineapple Dole Whips to churros to turkey legs, there are some food items at Disney that are so popular people try to replicate them at home. There's even an unofficial Disney food cookbook.
And while there's tons of restaurants and foods to try at the Disney parks, some of them might be a bit overhyped, according to the loyalist of Disney fans.
A recent Reddit thread in the Walt Disney Word subreddit had fans discussing Disney's best and worst when it comes to food and restaurants. Many noted that some of the most popular and highly recommended restaurants turned out to be mediocre or not worth the price.
Some users also noted a few Disney snacks that were fun to post on Instagram but lacked flavor.
The most upvoted comment on the popular Reddit thread noted that any sort of cupcake sold at the parks was pretty much just for looks. "Pretty much any cupcake. They exist mostly to be Instagrammed so taste comes second to looks," they wrote.
Another wrote, "This!! They're beautiful… and have 'refrigerator flavor.' So gross."
One Reddit user wrote that getting a reservation at Cinderella's Royal Table — a restaurant located inside Cinderella's castle at the Magic Kingdom — is obviously ridiculously cool and once-in-a-lifetime eating experience, but the food doesn't make the grade for the price. Dinner will cost you a cool $79 per adult and $47 per child.
One user confirmed, "Honestly, I would take it a step farther and say that the food is by far the worst of any signature dining restaurant. But you are paying for the experience — and that was great."
Another top comment on the thread claimed that another popular baked good just didn't live up to the hype.
"For me, it's always been the Mickey Rice Krispie treats 🥴 Doesn't matter if it's freshly made or packaged — to me they just have an odd flavor. Can't put my finger on it but homemade Rice Krispie treats are much better," they wrote in a comment upvoted over 100 times.
One Disney fan agreed, revealing that the Rice Krispie treats sold at Disney used to taste better, but since they switched their packaging, they have a developed a chemical taste. "They used to be phenomenal, especially when they made them in front of you. Once they switched to pre-packaging them, they must've changed the recipe to make them last longer," they wrote.
Another user echoed, "YES! We picked it as our treat one night and it was so meh. Like way too sweet and flavor and chewiness characteristics were just off."
Another popular restaurant mentioned in the Reddit thread was Be Our Guest — a Beauty and The Beast themed restaurant located in the Magic Kingdom.
"Great atmosphere in the west wing, but the food was worse the 2nd time we went, and the main hall is way too crowded for the theming," one user wrote.
Another user echoed, "Be Our Guest was otherworldly when we went in 2015 and it was sit down full service. Went back and it was a weird hybrid QS and a complete 180 to skippable."
Be Our Guest's menu also tops out at around $70 a plate.
One of the more popular and Instagram-worthy snacks Disney fans didn't seem to enjoy were the soft pretzels baked in the shape of Mickey Mouse's face. "All the Mickey pretzels are dry, real dry and the cheese is very salty," one user wrote.
Someone else noted that it wasn't so much the pretzel that didn't live up to the hype but the cheese served with the pretzel. "I love pretzels with cheese and the cheese for the pretzels at magic kingdom was probably the MOST disappointing thing I'd ever tried. Would not eat that cheese again. And I LOVE cheese," a Reddit user wrote.
Read the entire thread here.