Fast X Star Jordana Brewster Reveals Why Her 40s Are Her Favorite Chapter Yet
The mom of two tells Scary Mommy parenting feels "better" now, too.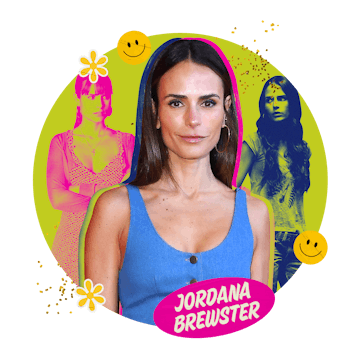 Ariela Basson/Scary Mommy; Getty Images, Shutterstock
Jordana Brewster is fully embracing this time in her life. She's a newlywed, mom of two, and star of Fast X, the 10th installment of the film franchise Fast & Furious — and couldn't feel more fulfilled.
As she told Scary Mommy, year 43 is already a highlight.
"I love my 40s," Brewster says, mentioning a newfound peace in both her career and personal life. "It's such a cliché, but youth is wasted on the young. When I think about the amount of time I spent torturing myself in my 20s and just worried and insecure ... I think you only gain the confidence to be vulnerable as you get older and have your training wheels."
The actress, who shares sons Julian, 9, and Rowan, 7, with ex-husband and TV producer Andrew Form, said parenting in her 40s feels "better" than in her 30s, too — partly due to her recent marriage to tech CEO Mason Morfit. The pair, who tied the knot last September, share a blended family as Morfit has four kids between the ages of 7 to 17.
"My husband's insight and input into parenting has been very, very helpful. He has great advice," Brewster reveals, detailing one of his hacks: locking remote controls, iPads, and candy in a portable safe when the boys have had enough "treats."
"And, watching teenagers," she adds of her stepkids, "it just prepares me and takes some of the fear out because I'm like, 'Oh, OK, it's not as bad as some people say. It's not Euphoria!"
Brewster also gleams advice from friends who are in the thick of it, sharing tips and tricks on how to stay sane and secure as a parent.
"I feel like if I were to have kids now, I would be a lot calmer because I think you learn part of being a mom is like rolling with it, being truthful to your friends, and going, 'I don't have it together. Do you have it together?' You know, sharing secrets and hacks and figuring out how to survive together as a tribe is really important," Brewster says, pointing to her love of the show Workin' Moms.
"I really relate to the scenes where all the moms are in the mommy group — some are perfect, some are completely flailing. I was one of the moms that was sort of flailing," she admits. "Like, 'How can these women seem to know it all and, yet, I don't know what the heck I'm doing?'"
Brewster is also lucky enough to call her Fast & Furious co-stars family and frequently leans on them for support and encouragement in all walks of life. Vin Diesel, Ludacris, and Nathalie Emmanuel were all at her wedding, as well as the late Paul Walker's daughter, Meadow, 24, whom Brewster considers one of her own.
"I'm really, really proud of her," she tells Scary Mommy. "I remember she said I want to be a model and this is what I'm going to do, and then to see her achieve her goals and her dreams is really incredible. I adore her, and I feel very protective of her."
Brewster, who plays Walker's on-screen love Mia Toretto in the Fast & Furious franchise, added that Meadow will always be "a very important part" of the film series and loves the fact that she has a cameo in Fast X.
"Thanks to my dad, I was born into the Fast family. I can't believe now I get to be up there too. With those who have been around to see me grow up," Meadow wrote on Instagram.
"It's a real family," Brewster says of the cast. "We really love each other and have gone through so much. I mean, it's been 22 years, which is crazy."
The fact that Vin Diesel is a close pal of hers wins Brewster brownie points with her kids, as well.
"Sometimes I'll say to Julian, 'Hey, if you don't listen to me, I'm gonna call Uncle Vin,' and then he's like, 'OK, I'm gonna listen to you," she jokes. "And they think it's cool when they see a billboard or if mom's on the poster at a bus stop. Luckily, their friends haven't made a very big deal about it, which I think is good, but I do get some street cred — especially with my stepkids, which I love."
Brewster is currently partnering with Lysol for the Strike Out Stink campaign, centering on the brand's Laundry Sanitizer. Her boys are involved in a lot of team sports — baseball, lacrosse, non-tackle football, Jiu Jitsu, and even trapeze camp — and she is all about cleansing their sweaty gear.
"A lot of these uniforms get super stinky and you only get one set per season, which is really challenging. I couldn't get the stench out, especially the lacrosse uniform, because there are so many layers to it," Brewster says. "I realized that using the Lysol Laundry Sanitizer would get rid of 99.9% of the bacteria, which was the cause of the stench."
As for summer plans, Brewster said she will have plenty of opportunities to do laundry and shuttle her kids around due to a pause on work amid the WGA strike, but she's looking forward to it. Though, the start of another school year is always a welcome sight.
"My kids go back in August, and I will be absolutely ready for them to start," she shares. "I love the school year because there's so much structure around it, and there's the structure around the after-school activities," she adds. "I think they love their routines, and it's great for them to be back at school and with their friends."
Brewster will be back with her friends soon, too, as Diesel confirmed Fast & Furious 11 will hit theaters on April 4, 2025. The latest film in the franchise, Fast X, is anticipated to land on Peacock for streaming this summer (*fingers crossed*).
This interview has been edited and condensed for clarity.