Justine Bateman Speaks Out On Aging Naturally: "I Just Don't Give A S—t"
"I think I look rad," the actor continued.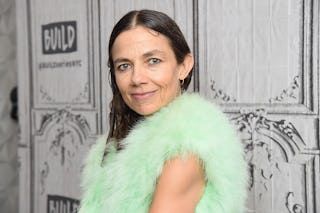 Gary Gershoff/WireImage/Getty Images
We may receive a portion of sales if you purchase a product through a link in this article.
Justine Bateman is a rare Hollywood actor who has decided to forego both Botox and the knife and just age naturally. It's a decision that she's made despite a wave of negative comments — and one that she fully and positively embraces.
The 57-year-old Family Ties actress opened up to 60 Minutes Australia about just how she feels about letting her face and body age naturally.
"I just don't give a s—t. I think I look rad. I think my face represents who I am. I like it," she said.
Then the writer, director, and producer explained why: she's changing with age, so why shouldn't her body and face, too?
"I feel like I would erase, not only all my authority that I have now, but also, I like feeling that I am a different person now than I was when I was 20," she said, adding "I like looking in the mirror and seeing that evidence."
She also has a lot to say about women who are caught up trying to preserve their youth.
"I feel sad for them, I feel sad that they are not just enjoying life. I feel sad that they are distracted from the things that they are meant to do in life … with this consuming idea that they've got to fix their face before anything else can happen."
This is far from the first time Bateman has spoken publicly about her feelings about plastic surgery and the beauty industry as a whole. In fact, she wrote a whole book about it, Face: One Square Foot of Skin, a collection of short stories about all of the complexities and controversies that come with women and aging.
"For me, (the face criticisms) felt like a ploy to somehow shut me down, to get me to hide, to be quiet, to erase myself, all at the exact moment in my life when I had gained the most intelligence, the most wisdom, and the most confidence," she writes. "What an easy way to try to make sure that I stopped accomplishing anything further. To keep me from enrolling in college, from writing books, from writing scripts, or from directing and producing films (all of which happened in the post-face-criticism years). In fact, what a perfect way to make sure this book never existed to tell you that the perception that your older face is 'horrible' is just a lie you may have absorbed, and nothing more."
Her stance, and her response, has all been a response to the constant criticism she's received from both men and women as she's gotten older.
"I saw those people attacking my face and I was like, 'What, really?' I really let it mess with my head. I had to go in and look at what fears did I have with regards to that. So I wanted to look at what are the fears in society that become anchors for us as a whole," Bateman told Scary Mommy in 2021. "I have to be brutally honest with myself on what my irrational fears are. And then I have to trust that the opposite is true. I'd rather just change how I see things and how I react to things. And then everything else becomes an obstacle course."
As for other women who are aging, Bateman doesn't have judgement, but she does have a message.
"I would say to those people: You don't have to follow those rules, either. If you want to go get the facelift, Botox, whatever, go for it. I would hope that you would take an opportunity to get rid of the fears that could possibly be underneath that so you don't have to keep carrying that baggage around with you. I hope someday they can get free so they can have a more relaxed life. But beyond that, all I can do is control how I'm looking at things. That's it," Bateman told Scary Mommy.