12 Things To Do With All That Halloween Candy
by Kimberly Zapata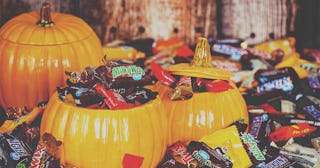 Leena Robinson/Shutterstock
One night. Two kids. 20 pounds. That's how much candy we collected this Halloween. (Yes, really.) And from Kit Kats and Hershey bars to my personal fave, Reese's Peanut Butter Cups, we got a little bit of everything. My neighbors did not hold back. But what does one do with all that candy? I mean, aside from opening it and eating it, what can you do?
Here are 12 creative ways to use and consume your leftover Halloween candy.
Add it to baked goods.
From brownies and cookies to no-bake cheesecakes, adding Hershey Kisses, Reese's Pieces, M&M's, and Butterfingers to standard baked goods recipes are a great way to make (and take) your tasty treats to the next level. Not sure where to begin? This peanut butter cheesecake looks sweet and sinful.
Make your own trail mix.
Do you have a lot of leftover chocolate and pretzels? Perhaps you got some peanuts? Throw these goodies together in a Ziploc bag — along with some dried fruit — to create your own trail mix.
Get crafty.
While it may seem blasphemous to use leftover Halloween candy for and during the Christmas season, Dots and Smarties are great for gingerbread houses. You can also melt Jolly Ranchers down to create seasonal ornaments, and trust us: These beauties are stunning. They look just like stained glass.
Paint with it.
Sweet, scented, and completely safe, use Skittles to make a non-toxic, water-based paint. Fun for kids of all ages.
Make learning toys and games.
Sure, candy is delicious, but did you know it can also be educational? Use gummy bears as counters and/or create your own abacus. A handful of Dots and a couple of straws should do the trick. You can also make your own candy necklace, if you're feeling crafty, or design your own board game — with candy playing pieces of course.
Create adult beverages.
From flavoring your own vodka to making a chocolate martini, there are dozens of ways to use your kids' leftover Halloween candy in cocktails. Not sure where to begin? Delish has 13 crazy and totally cool cocktails you can try.
Conduct a science experiment.
Kimberly Crandell, a mom of three with an aeronautical engineering degree, came up with 10 ways to turn leftover Halloween candy into a learning experience. Check out her super-smart ideas on science20.com.
Make some seasonal fudge, or bark.
To say I love fudge would be an understatement. It is one of my favorite treats, hands-down. But fudge doesn't have to be bland or boring. Chop up some Halloween candy, especially Kit Kats and Butterfingers, and add it to any bark or fudge base. Throw in a handful of pretzels, if you've got 'em, and know that you can even use candy corn in your creation, if that's your thing. The sky's the limit. Fudge and bark recipes know no bounds.
Put it in your coffee.
The best part of waking up isn't coffee in your cup, it's a mug full of steamy, chocolatey goodness. Mocha made easy.
Donate it.
Groups like Operation Gratitude and Operation Shoebox partner with businesses and community members to collect candy to send to our troops. You can find a location near you or ship directly by November 15. You can also donate candy to local soup kitchens, chemotherapy clinics, nursing homes, and/or shelters.
Trade it in.
While trading in your candy may not sound exciting, many dentist offices have "buy back" programs, with trade-ins ranging from a set cash amount per pound to books and small toys. For more about buy back programs in your area, visit the Halloween Candy Buy Back program website.
Give it away.
If you find you're drowning in candy — like, say, you have 20 pounds of chocolate- and gummy-based foods in your kitchen — you also can and should give it away. Bring it to the office. Make care packages for your friends, neighbors, and even grandparents, and share the sweet love.
That said, whether you use your leftover Halloween candy in the kitchen or craft room or donate it to your favorite organization, remember: The fun of the season is in being (and getting) creative. And sharing, of course.
This article was originally published on