I'm Looking For New Friends, But They're Hard To Find
by M.S. Barnes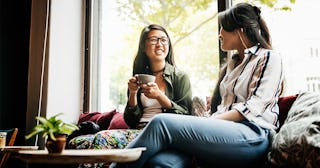 Tom Werner/Getty
I broke up with my lifelong best friend about a dozen years ago. Her challenging personality, which had always seemed quirky-but-manageable during our 25-year friendship, gradually became less so as our lives diverged. I was married with two children ages nine and eight, a full-time job in journalism and a demanding small business. She was single and moody, hilarious but unpredictable and self-centered in the way that childfree people get to be. It was a traumatic break up, but one that was necessary for my self-preservation.
Since then, I've focused on my work, my family and all the usual things life throws our way. I was fine without a best friend for the most part. I had plenty of "situational friends," mostly parents of the other children on my daughter's sports teams or fellow business owners working in the same industry. Eventually, however, my daughter timed out on sports and I closed my small business. Now, I'm looking around for women to befriend, and there are few viable candidates.
The void is noticeable.
On the rare occasion I get together with other women, I am over-eager, gushing all over the other attendees with a tidal wave of TMI and working the room like a combination stand-up comedian and attention whore. I suck all the air out of the room, so boisterous that no one else can get a moment of daylight. I realize this shortcoming, and the resultant self-talk swings wildly between "Well, this is just how I am, and my friends understand that," and "OMG, why do you always ass-out like that around other women?"
What I really need is someone who also is gushy and snarky and funny and smart and–I've got to be honest here–kinda judgy, all adjectives I'd pin on myself. So, I've been writing a want-ad in my head for years, "woman seeking woman"-style, that could yield my ideal candidate for best friend. Here's what I've got so far:
Almost-50 woman seeks same for rest-of-life-long friendship. Must be irreverent, enthusiastic and smart enough to know what irreverent means. Politics: Fairly liberal. Religion: God, no. Ability to provide appropriate outrage and witty quips in response to rants required (will be returned in kind.) Ability to discern when advice is wanted vs. just a listening ear is crucial (also will be returned in kind.) Love of coffee, documentaries, National Geographic (both magazine and television network), and educational podcasts a plus, as is at least rudimentary knowledge of French or Spanish. Must be willing to discuss perimenopause symptoms at length. Must be up for adventure but nothing too crazy or strenuous or embarrassing. Must live in same general vicinity and be available for drop-ins (both granting and receiving). Feminism an absolute priority, as is a disdainful eye for poor grammar and punctuation. Emotionally conservative OK. Must not get offended if contact is sporadic. Application essay on this topic required: "Below Deck: Mediterranean is both trashy and a salient microcosm of a capitalist society. Discuss" along with a small application fee.
It's still a work in progress.
Some days I think the essay should be about The Princess Bride, but I feel that might reflect poorly on me. Should I add what I am prepared to offer in return, or does that make the whole endeavor distastefully transactional? I'm normally not one to second guess myself.
Looking the ad over—I've never written it down before–also makes me wonder: Am I just searching for someone exactly like me? Wouldn't my life be more enriched by someone who could broaden my horizons and offer different viewpoints? The answer to both is yes. But my horizons are appropriately sized at almost 50. As I've said, I know my shortcomings, but I also know what I bring to the table. Perhaps my new best friend and I could expand our horizons together, where the risk of disaster is softened by solidarity.
You might be wondering about my spouse and whether he should be my best friend, as so many women label their significant others. That's a hard no from me. He's a wonderful guy and blessedly mechanically inclined, but he doesn't approach the lofty requirements enumerated in the ad. He doesn't drink coffee or read for pleasure, and his idea of a good time is hunting, not wine tasting. He's really the anti-ad, hence the need for one.
I'm content that my friendship requirements are self-indulgent and specific. Through the years, I've left friends behind who were too religious or cried at the drop of a hat or judged me for using cannabis as a sleep aid. Plus, I am prepared to reciprocate; indeed, I'm eager to enable someone else's self-indulgence.
Here's the trouble, though: It is notoriously difficult for people my age to make new friends, especially all-the-time friends rather than situational ones. Are those of us approaching 50 so set in our ways that we have no bandwidth for additional personalities, commitments or experiences? Perhaps. That's why I added the disclaimer that contact may be sporadic.
Honestly, I don't have all the answers. But I'm willing to explore, preferably with my new best friend at my side. Now taking applications (for a small fee).
This article was originally published on