10 Cute & Cool Lunch Boxes On Amazon For Kids — Including A Few You'll Want To "Borrow"
Bento boxes and lunch bags to get your family through the school year.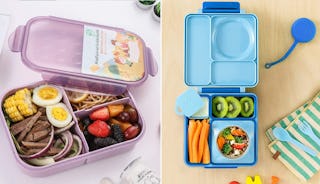 Making lunch every single day of the school year is enough of a grind as it is. No doubt you'll want a lunch box that will work with you, not against you, to make the food you've lovingly labored over — errrr, thrown together between sips of scalding coffee at 5 a.m. — look and taste appealing. So, it makes sense that you're on the hunt right now for the best lunch boxes on Amazon that are easy to use (and clean) day after day after day. Well, you found 'em.
The products below are more than just cute or cool lunch boxes; they're durable, practical, and popular for a reason. Read on to find the one you're least likely to want to throw across the kitchen when you inevitably find it full of two-week-old moldy grapes sometime next February.
We may receive a portion of sales if you purchase a product through a link in this article.
Whether you're looking for something that keeps food hot or cold, a cute lunch box your preschooler will love, or just a basic bag that's affordable, durable, and easy to clean, these lunch boxes on Amazon have a lot to offer. Here's to a very happy 180+ days together... and no moldy grapes.