"Minimalist Beige Christmas" Is Out & Colorful "Nostalgia Christmas" Is In
Get out the rainbow lights.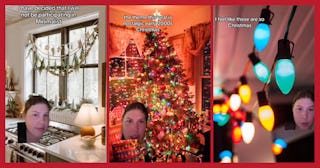 @aver.deedle / TikTok
Christmas season is here! Now, it might be a little early for fully decking the halls, but there's no harm in doing a little holiday decor brainstorming, right? One TikTok user is going viral for promising to kick her holiday decor up a notch this season and bring back some colorful, nostalgic decor from twenty years ago.
My TikTok FYP consistently feeds me videos surrounding "Christmas nostalgia."
"The Christmas Song" sung by Frank Sinatra plays on the clips while I am inundated with scenes from my childhood — a tree covered in tinsel, those green ceramic Christmas trees with the little bulbs, and the stop-motion movie, Rudolph The Red-Nosed Reindeer on the TV.
It was truly a magical time as a kid, and now that we're all grown up, if people want a little piece of that magic back, and in a world that is just totally flipped on its head, can you blame them?
"I have decided that I will not be participating in 'Minimalist Beige Christmas' this year," TikTok user Ave says while displaying a nice but dull picture of some beige holiday decor.
"If this is what you like, if this is what you want, good for you, do it, enjoy the hell out of it. It's not for me. I think this is pretty, I think it's simple, I don't think it's giving enough. Not for me."
This year, she's opting for a much more maximalist, brightly-colored theme, reminiscent of Christmas moments that she enjoyed in the early '00s.
"The theme this year is nostalgic early 2000s Christmas. I want all the rainbow lights, I want the mismatched ornaments. I want the random wrapping paper. I want nostalgia," she says before noting that she's over all these influencer houses looking like a "Crate & Barrel showroom."
"This is the vibe," she states.
"If you would have told me I was going to do rainbow lights on my house a few years ago, I would have laughed at you, but like I'm obsessed with these. I feel like these are so Christmas. They're so fun and they just put me in the holiday spirit."
Ave's video went viral, gaining over 1 million views, with thousands of TikTok users backing her up, sharing their own decorating plans for this year, including the official TikTok account for Hallmark.
"We approve this message 👏💜," the brand wrote.
"I loved the minimalist Christmas until I had kids, now I want to make sure they experience the Christmas magic I did growing up," one user noted.
Another said, "I do what I call "classic Christmas," which mimics Home Alone vibes, I want every inch covered in red and green and gold ✨. It's Christmas, damn it!"
One user called this kind of decor "tacky Christmas," and wrote that this kind of vibe "feels human" rather than sterile and cold.
In a follow-up video, Ave gives a short tour of her outside decorations, including bright colored bulbs that give off that old-school incandescent glow.
Here's to a nostalgic, colorful Christmas this year!