Why I'll Never Upgrade My Wedding Ring
by Jorrie Varney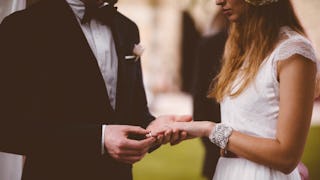 wundervisuals/Getty Images
Next month my husband and I will celebrate a milestone anniversary—10 years. Some days it's hard to believe, and other days it feels closer to 20. The truth of the matter is, I lucked out in the husband department. He's a ridiculous pain in my ass, but he's one of the good ones, and most of the time I don't deserve him.
When we first said I do 10 years ago, we were both working our way through school. Though we are still young by most standards, looking back from this vantage point, we were just babies then. I remember the day he proposed. We were at a lake near our home. It was a beautiful fall afternoon, and my dogs were trying to eat all the squirrels in the area. (Who says romance is dead?) I was attempting to get them under control, tangled in their leashes, when I turned around to find him on one knee. That was it, and here we are.
He asked me last week how I wanted to celebrate. We're planning a weekend away, just the two of us, and I couldn't be more excited. I honestly couldn't come up with any gift ideas to give him. I mean, I want a cast iron griddle and a tortilla press, but those gifts don't really scream 10-year anniversary. I used to think I would upgrade my wedding ring to celebrate a milestone anniversary like this. The diamond he gave me 10 years ago isn't very big, the band scuffed and worn, and fits a bit more snuggly than it used to, but I have no desire to change it. I will wear this scuffed up ring until they put me in the ground.
It's funny how your perspective changes over the years. Ten years ago, I looked at my ring as a symbol of our commitment to one another. That's what they say in the scripted vows, right? A symbol of your love and commitment to one another? Or something like that. Well, I have to say, 10 years isn't forever by any means, but my ring has come to be more of a reminder than a symbol of anything. It reminds me every day how much we have been through and how far we have come.
I've worn this ring every day since he gave it to me. It has been on my finger through some serious shit. It's been there through two difficult pregnancies, postpartum depression and anxiety, financial hardships, arguments about nothing, arguments about something, tears, anger, love, frustration, failure, and triumph. We built a house together while I wore this ring, we finished school, had two beautiful babies, and survived the toddler years—twice. Clearly this thing is indestructible.
I wore this ring on days I thought we wouldn't make it, when we were so frustrated with each other, that we sat in silence. I wore it when life was hard, harder than either of us imagined it would be. "In sickness and in health" doesn't quite cover the bullshit life can throw at you. When I look at my ring, I remember the bad times, and I know if we made it then, we can make it now. That may sound ridiculous, but the bad times are where you learn to fly. They show you how tough you really are. My ring reminds me how tough we are.
I'm not naïve enough to think there won't be rough waters ahead, because that seems to be how this works. Life is rainbows and sunshine with intermittent thunderstorms and the occasional tornado. We have a long road of parenting ahead of us, and from what I hear we should brace for the teenage years. Wherever this road leads, I know one thing is certain, I will be wearing the ring that reminds me how far we've come.
This article was originally published on