There's A Pumpkin Spice Product For *Literally* Every Aspect Of Life, And We're Here For It
by Amanda Davis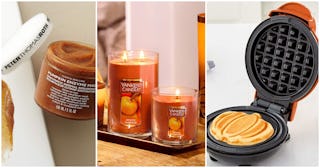 Amazon
I love summer as much as the next person, but there's just something about pumpkin spice products during the fall season. Like Aperol Spritz in the summertime, I need (not want, need) my Pumpkin Spice Cold Brew in the fall. To add a little extra joy to my life, I also fill my house with the cult-favorite scent too. Food, candles — I even have a go-to pumpkin spice face mask for this time of year! My partner calls it extreme, but I call it creating a safe space, okay?
RELATED: 10 Fun Fall Date Ideas That'll Have You Feeling Cozy And Smitten
If you magically turn 100% basic once the leaves begin to fall (no shame here) and are in love with pumpkin spice everything like I am, you've come to the right place. I've done all of the tough work for you and found the best pumpkin spice products available this time of year. From pumpkin spice matcha to adorable socks with PSLs all around — check out our top picks below!
Best Pumpkin Spice Products
Overall, these are our favorite Pumpkin Spice items. More food, home, beauty, and fashion products follow!
Best Pumpkin Spice Food
Best Pumpkin Spice Home Products
Best Pumpkin Spice Beauty Products
Best Pumpkin Spice Fashion