I Own Multiple Pairs Of The Cult-Favorite Flats People Love — Yes They're Worth It
I love my Rothy's so much, I wish I could divorce my husband and marry them instead.
by Gina Vaynshteyn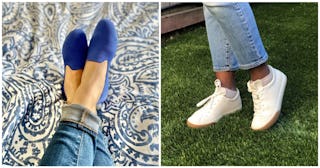 Scary Mommy
So, you're here to find an unbiased Rothy's review. I feel you. For $125+ you want to ensure that what you're buying lives up to the hype and I absolutely cannot stand when things don't live up to the hype — especially when they're pricey. But first off, let me assure you that Rothy's flats are A++. I love my Rothy's so much, I wish I could divorce my husband and marry them instead. I wish I had bought them sooner, because no other flat or slip-on shoe is superior, or has come close to it. Now: Here's why you should believe me, suck it up, and just buy a pair of Rothy's for yourself as the ultimate gift for your feet and everyone's eyes, because you will be looking and feeling bangin'.
Let me just say: Flats have been my go-to choice of shoe since high school, so I feel like I'm kind of an expert here. You cannot go wrong with a plain black pair of flats, and I will stand by that declaration until the day I die (and when I do, you can bury me in my flats). I've owned just about every flat there is (except for Chanel flats, because I am not an heiress). Ballet flats, d'Orsay flats, Mary Jane flats, loafers, glitter flats, red flats, leopard print flats, leather flats, flats with cute animals on them in 2014 when that was cool, the cloth flats you can grab at the drugstore that are almost like Keds but disintegrate within days — you name it, I've owned it sometime in the last 15 years. But something happened in my late 20s: My feet started to hurt. I could no longer walk around an office for 8+ hours a day or schlep around LA in uncomfortable shoes.
Flats are comfy in their very nature, but I needed an upgrade. So, about two years/a lifetime ago, I treated myself when I got a new job and promotion. I'd been served one too many Rothy's ads on Instagram, and I caved. Unlike so many social media purchases, I didn't regret this one because oh my god, these shoes felt like little clouds hugging my feet. The red ones I'm wearing above and below are The Point in Flame, FYI.
My first pair were the Rothy's The Point flats in Black Solid (obvs). The material is a woven thread that's made of repurposed water bottles and the foam insoles are crafted from bio-based castor oil and other recycled goods. The cloth also feels luxurious because they're also made with humanely-procured Merino wool which comes from Australia. So, yes. When you pay for $125+ flats, you get flats that are hyper-engineered to not only be comfortable, look awesome, last forever, but they also make the planet happy.
Another cool Rothy's feature is that they're totally machine washable without coming out all warped. If you wear a certain pair of shoes a lot, they can get…stinky. Especially if you live somewhere perpetually warm, or deal with sticky summers. Remember how embarrassing it was to take your Toms off in front of people? We are done with that. The other cool thing about Rothy's is that they're really breathable. I gotta admit, I've owned mine for two years now and haven't had to wash them once (and they smell fine, and so do my feet, in case you're curious). Below is what my first pair look like, and I wear them almost every day.
If you love bright, loud colors and patterns, Rothy's has a lot to choose from, and they also have different styles from what I'm wearing. They have The Flat (rounded toes), The Loafer (self-explanatory), The Mary Jane (a pointed flat that comes with a cute bow), The Square (a slightly squared off toe), and The Point (see above photos).
They've also expanded their line of shoes to include sneakers and boots, which one of our shopping editors tried (you'll see in a sec, hang tight). The sneakers (The Lace-Up, The Sneaker, The Ankle Boot, and The Chelsea) are all washable, too. Lastly, they have flip-flops (aptly named The Flip Flop) if you prefer to set your toes free.
But don't just take my word for it. Amanda and Karen — Associate Shopping Editors on Scary Mommy's Spotted team — recently tried Rothy's and now they, too are O-B-S-E-S-S-E-D.
"Let me start off by saying that I have wide, short feet (think duck flippers), and pointy flats generally feel pinchy and don't work for me. But Rothy's The Point shoes are so cute, I wanted to give them a go. All I have to say is wow. The stretchy material molds to my feet for a perfect fit that's also super comfortable, and the V-shaped opening and pointed toe make them look longer and less — uh — gnome-like. The Loafers are equally amazing and I LOVE the classic silhouette."
"Generally, I hate wearing shoes without socks, but these are definitely breathable enough to wear barefoot. And check out those colors: The rose and navy double stitch (on The Point) and the bright cornflower blue (on The Loafers) practically sing spring. I always test products from the 'mom-with-a-toddler' perspective and these are so easy to wear, plus it's a miracle that they're washable. Working from home, I don't go out much, but when I do, I want to look put together without sacrificing comfort." – Karen, Associate Affiliate Editor
"These are some of the most comfortable shoes I've owned in a long time. I love wearing white and cream-colored shoes because they go with everything, but hate that most get dirty so quickly. The fact that Rothy's are machine washable just takes it to a whole new level." -Amanda, Associate Affiliate Editor
Anyway, if you've made it this far, I hope you're convinced. Get them. Thank us later.
This article was originally published on