Senior Pictures Are In! 85+ Captions Perfect For Sharing on Social Media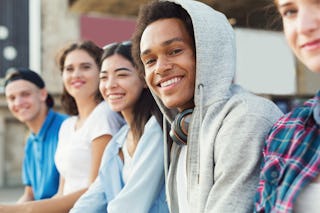 Shutterstock
As parents, our kids' milestones are often just as precious (if not more so) to us as they are to them. From their first step to their first time behind the wheel, each momentous occasion leaves us feeling proud of them — and ourselves. While the day you moved past diapers was *sigh* amazing, the day they leave high school will feel even bigger. For many parents, senior pictures and graduation mean you're one step closer to saying "goodbye" to your babes as they fly off to college, the military, or whatever else life holds for them. (Cue sobbing.) While you'll be a hot mess on the day that you actually have to say goodbye to your babies, not all these senior year "so longs" are bad. You also get to say goodbye to science projects, algebra, and standardized tests. If you're really lucky, you'll soon miss out on most of the drama spawned by friend fights. And that is a freakin' miracle. Not surprisingly, it's hard to capture all of those emotions in roughly 140-ish characters, so you might need help coming up with senior picture captions.
When those senior pictures show up on your cluttered kitchen counter, take a moment to push down the dread of college drop-off. Focus, instead, on the sheer pride in your kid and yourself for making it through twelve-ish years of school nonsense. Your family survived. The end is in sight! And when you plaster your handsome devil's senior pics all over your social media, you won't have to burn up the brains cells you have left after helping them study for the SAT to come up with a caption — this list has you covered.
Senior Picture Captions for Proud (and Sentimental) Parents
"It always seems impossible until it's done." – Nelson Mandela
Always remember that you are braver than you believe, stronger than you seem, smarter than you think, and loved more than you'll ever know.
We love to see it.
Zooming through to graduation.
"It's something unpredictable, but in the end it's right, I hope you had the time of your life." — Green Day
This is just the beginning. Just wait and see.
I can nap now, yes?
"Start where you are. Use what you have. Do what you can." — Arthur Ashe
Mischief managed.
Shoutout to passion and Purell for getting us through the final stretch.
There is no elevator to success; you need to take the stairs.
Let the adventure begin.
Don't cry because it's over; smile because it happened.
Once you've graduated, just remember: Bosses don't usually accept notes from your mother.
Remember that you can never cross the ocean until you have the courage to lose sight of the shore.
"The journey is the destination." — Dan Eldon
You have the whole summer to learn how to wake up with just your alarm.
"She turned her can'ts into cans, and her dreams into plans." — Kobi Yamada
What's the best version of "Pomp and Circumstance" on Spotify?
You went from an itty bitty bundle of joy to an incredible young person ready to conquer the world. We are so proud of you, always.
Welcome to the suck, kid.
High school may be ending, but there's still so much to do and learn.
Your education was the dress rehearsal. Now, go lead your life.
Go forth and set the world on fire.
"What she tackles, she conquers." — Gilmore Girls
The beautiful thing about learning is that no one can take it from you.
"Wherever you go, go with all your heart." — Confucius
"It takes courage to grow up and become who you really are."—E. E. Cummings
A sweet end to a new beginning.
"Today is where your book begins; the rest is still unwritten." — Natasha Bedingfield
The tassel was definitely worth the hassle. Congrats on all your hard work to get here.
The best is yet to come.
"And this is the part where you find out who you are." — The Maine
May your cap fly as high as your dreams.
The best view comes after the hardest climb.
"How lucky I am to have something that makes saying goodbye so hard." — Winnie the Pooh
Tomorrow will be a new chapter in your life. (This book is getting very interesting.)
"Now go, and make interesting mistakes, make amazing mistakes, make glorious and fantastic mistakes. Break rules. Leave the world more interesting for you being here." — Neil Gaiman
This is the beginning of anything you want.
Don't count the days. Make the days count.
"Sometimes you will never know the value of a moment until it becomes a memory." — Dr. Seuss
Senior Picture Captions for the Grads Themselves
Hey, Siri, how many days until graduation?
This wasn't like High School Musical at all.
So, like... anyone hiring?
Peace out!
"I don't know where I'm going, but I'm on my way." — George Fairman
One day I'll know, how far I'll go.
"Started from the bottom, now we're here." — Drake
Never thought I'd finish my final class from the comfort of my own home. Here's to the class of 20**!
Bye forever!
The end is near.
It's the final countdown.
The thing about beginnings is that they require something else to end.
Is this what being an adult looks like?
It's official: I'm now too cool for school.
"I am ready to face any challenge that might be foolish enough to face me." — Dwight Schrute, The Office
Already forgot everything.
Shocked I stayed awake through all those virtual lectures, tbh.
What, like it's hard?
I'd like to thank coffee for getting me to this point.
"She doesn't even go here." — Mean Girls
Cap and gown, but make it a robe and sweats.
OK, so now someone pls explain taxes.
If you think about it, my senior year was a breeze compared to Harry Potter's.
"Well, that was easy!" — no one ever
Accepting job offers starting today. Inquire within my DMs.
I usually wear a crown, but today, I guess this cap will do.
"Ayy I'm just feelin' my vibe right now. I'm feelin' myself." — Desiigner
Wait, I passed?
"You haven't seen the best of me." — Jessie J
Wow, this was so unexpected. I didn't expect to get this degree. I'd like to thank the Academy...
"Speeding through red lights into paradise. Because we've no time for getting old." — Troye Sivan
I still have no idea what I'm doing.
When the last bell rings, I might actually miss this place...
"Don't tell me the sky's the limit when there are footprints on the moon." — Paul Brandt
Alexa, skip to graduation.
"I think I'm quite ready for another adventure." — Bilbo Baggins, LOTR
The one where I graduate.
"Nothing can stop me, I'm all the way up." — Fat Joe and Remy Ma
Pick me. Choose me. Hire me.
"Did everyone see that? Because I will not be doing it again." — Pirates of the Caribbean
Senior Sunday never looked better.
May your cap fly as high as your dreams.
What feels like the end is often the beginning.
If you're reading this, it's my senior year.
Peace out, I guess?
If your Wi-Fi stops working when they call your name in the virtual graduation ceremony, does that mean you still graduated?
Is this what being an adult looks like?
This article was originally published on