This Viral TikTok Will Make You Want To Break Up With Your Vacuum Cleaner
Shop-Vacs are apparently where it's at.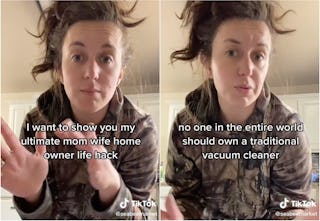 @seabeemarket/TikTok
Which is worse: Picking up warm, slimy food from the floor or scraping up old food gunk from the bottom of your fridge and freezer? There are no right answers. It all sucks. The only thing that doesn't suck is the one thing that literally should: your vacuum. As one TikTok mom recently illustrated in a now-viral video, though, there's something that does an even better job and isn't limited to just dry messes or only wet spills. Mamas, it's time to whip out the Shop-Vacs.
Let's be honest: None of those overpriced miracle vacuums really do the trick. The little rechargeable stick vacuums work OK for a small, quick, dry mess, but they fill up fast. And if you have pets or keep your hair long, you will forever be cutting hair and fur from its roller brush. The super expensive vacuum's "best technology on the planet"? The battery dies before you finish your whole house, and fixing it when it's broken costs almost as much as buying a new one.
But whether you're vacuuming up yesterday's Goldfish explosion or using an old credit card to scrape up something sticky from a hidden and forgotten space in your home, it's all gross — so you need help. Enter the Shop-Vac.
"I need to show you all something, but it's pretty disgusting," TikTok mom Courtney Barr (@seabeemarket) begins before asking viewers not to judge her. "I want to show you my ultimate mom, wife, homeowner life hack, and that is that no one in the entire world should own a traditional vacuum cleaner, especially if you have hardwood floors. Get a Shop-Vac or a knock-off Shop-Vac."
Barr proceeds to show viewers inside the bottom of her freezer, which she's emptied of groceries already. There, she shows viewers the same mess you'll find in your own freezer drawer: loose frozen veggies, frozen caked-on sauce, ice, and french fries. Just a truly disgusting (but relatable) mess.
How does she fix it? Not by getting on her hands and knees with gloves and Clorox wipes. Instead, she uses the long hose on her ultra-powerful Shop-Vac to suck up almost all of the mess. The leftover, stuck-on gunk? She sprays it down with cleaner, uses her sink sprayer to rinse it (great aim, BTW!), and then uses her Shop-Vac to slurp it all up. A bit of scraping and scrubbing is required, but that "industrial-grade" vacuum does the vast majority of heavy lifting.
Still not convinced? Consider the benefits of Shop-Vacs:
They can handle dry and wet messes.
Their "sucking power" is significantly stronger than most vacuums — they're made to pick up sawdust, water overflows, and everything in between.
They roll very easily and come with long cords and long hoses.
Typically, they're lightweight.
With ginormous tanks, Shop-Vac makes it easy to do several whole-house deep cleans without stopping and emptying the tank.
If you're patient enough or buy the right chemicals, you can do even less scraping and scrubbing than Barr. Never underestimate the power of Goo Gone or that Method Degreaser, y'all. Some Shop-Vacs also come with a few different nozzle attachments, one of which works especially great for light scraping. Will it get gunky? Sure. But it's detachable, meaning you can yank it off and wash it in the sink afterward.
Shop-Vacs (and their off-brand counterparts) have been making workshop and garage clean-up easy for decades. Why shouldn't we use that same power and ease within our homes? Just take caution: If you're slurping up a ton of food gunk, you probably don't want to let the tank sit through several whole-home cleanings before emptying it... unless you like bugs.