The 10 Best Beauty Products on Earth (For Real)
by Melissa Kirsch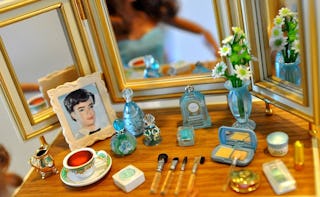 I am very suspicious of people who want to sell me things, and if there's anyone who wants to sell me things, it's people who make beauty products. They not only want to sell me paints and potions and tools, but they want, as has been well established and lamented, to sell me the idea that I am not pretty enough without their products.
I know this. I know this as a woman, as a consumer, and as someone who spent nearly four years working in advertising for some of the world's biggest beauty brands. I know exactly how these brands can prey on women's insecurities about their looks.
And yet I still love beauty products.
My love of cosmetics, of makeup and skincare and styling contraptions and DIY unguents made from pantry staples, has led me to some very specific corners of the Internet. I piously follow dozens of beauty blogs written by girls half my age, where twelve shades of berry lipstick are compared and assigned letter grades based on criteria like staying power and pigmentation.
I pore over reviews on sites like Makeup Alley, whose rabid reviewers' odes make my own obsession look tame. I have watched and rewatched every video by Lisa Eldridge, who, for the uninitiated, is only the most brilliant, beautiful, talented makeup artist on earth (and, if only we could meet, my very best friend). I have bought a metric ton of cosmetics recommended by these bloggers and makeup artists and reviewers.
I am here to say that a lot of the stuff they recommend is not good. There are certain beauty products that are universally adored, that are included in every "10 Best" roundup on every site and in every publication. Only a fraction of these products are actually worth the money. (And by worth the money, I mean worth it for this pale, dark-haired woman who doesn't have a lot of acne or wrinkles YET.)
I am no longer in advertising. I did not receive any of these products for free. I recently moved into a smaller apartment and gave 90 percent of my beauty products to my friend Chelsea. These are the things I kept.
© Nordstrom
You know how most concealer either makes you look all cakey or otherwise like a reverse panda? Or how your zits are all showing again before lunch? Not anymore. I put this first to get it out of the way because it's so expensive you are going to cry but I swear it works, I swear it lasts for a year (I know, you're not supposed to keep makeup that long, but this is not makeup this is a MIRACLE), I swear you will not look back.
2. Anastasia Beverly Hills Tinted Brow Gel
© Nordstrom
I saw a video where someone (was it Charlotte Tilbury?) used this product to give Cara Delevingne brows to a model who essentially had no eyebrows at all. I don't understand what this gloop is doing, but it's not only gelling your brows down so you don't look like a crazy old man, but it is filling in the gaps, making your pencils and powders redundant.
I say this as a person with okay brows that need some filling in. If you really have thin brows, you may still feel you need something else, namely MAC Eye Brows pencil. (Not if you have black hair though! They discontinued the black one, those rats! So if you have sparse black brows you should use the Anastasia powder, or track down that Suqqu eyebrow pen in Moss Green (yup) on eBay.)
3. Hourglass Opaque Rouge Liquid Lipstick
© rebeccabrown.com.au
No lipstick is actually "kiss-proof," if you plan on doing any serious snogging. However, there are certain lipsticks that will stain your lips so amply that they really do last through meals and won't leave that gross residue on your coffee cup, and this is one of them. This stuff goes on with a little "doe foot" applicator and dries to a perfect matte finish. Once it's set, it's not going anywhere. Stila makes a similar product but I like the Hourglass packaging better.
4. Becca Shimmering Skin Perfector
© Dermstore
Makeup artist Lisa Eldridge may be solely responsible for the legions of women who love Becca Shimmering Skin Perfector. (Go watch her say it in her perfect British accent at 3:28 in this video and be changed forever.) You need only a pinhead's worth of this crazy translucent cream on your cheekbones, browbones and nosebone, and suddenly you will have that glowy look movie stars have when they go on talk shows. Lisa sometimes puts it on her cupid's bow, too, which you can do but don't use too much or you'll look oily.
5. Kérastase Bain Chroma Riche
© All About Beauty Blog
You don't need Kérastase. No one needs Kérastase. But once you try it, you might become convinced you need it. I got a sample of Bain Chroma Riche the one and only time I tried Birchbox (well played, Birchbox) and I have been unable to not spend a fancy lunch's worth of money on my shampoo since. I use Bain Chroma Riche because that was the sample I got and it made my (long, fine) hair full and soft and shiny, even though it's meant specifically for color-treated hair. I have recommended it to everyone I know, many of whom do not dye their hair, and they all swear by it too.
You can try other variations from Kérastase (as I have) but you will always come back to this one. I use the shampoo and a very small amount of Chroma Captive as conditioner.
6. T3 Featherweight 2 Hair Dryer
© Ulta
I hate drying my hair. Good thing I barely have to anymore! This hair dryer is bananas. It is quiet, it is light, it dries my hair in quite literally half the time of any other hair dryer. It dries my hair in half the time of ITS PREDECESSOR, the T3 Featherweight 1. There is no other hair dryer for me. Or you. Or anyone else. Stop wasting your time and start living.
7. Kevyn Aucoin The Curling Mascara
© Kevyn Aucoin
Kevyn Aucoin Curling Mascara is probably a controversial pick for the best mascara on earth. It's not going to give you the thickest lashes. It's not going to give you giant spiderweb lashes. It's not going to make your lashes Latisse-long. But. It is going to make you look like your own natural lashes are thick, healthy, curled, appropriately long for eyelashes (extensions and glaucoma-inducing serums have created a class of lash that is ridiculous and creepy), and most important of all, it is not going anywhere. It will not give you raccoon eyes ever. It will not move or budge or end up on your chin or your pillowcase.
It's the tube type of mascara that comes off with warm water, which is not enough mascara for some people. Those people should reconsider.
8. MAC 217 Eye Shadow Brush
© MAC
I hesitate to recommend an eye shadow brush because makeup brushes imply a level of commitment to makeup at the intermediate level and above—beginners use the weird little foam applicator the shadow comes with, which works well enough. If you are going to do the crease-shadowing and other trompe l'oeil tricks people do on YouTube, you need the 217. It's very soft and it will keep you from turning your perfect shimmery eye look into an accidental black eye, which is the story of my life.
9. Seche Vite Dry Fast Top Coat
© Amazon
This product does exactly what it says (in French): It dries fast. It's the only good top coat out there. It dries in one minute and if you are very careful and don't graze your nails on the comforter before the polish dries, it will leave you with an almost-salon-quality manicure.
10. Bioderma Créaline Solution Micellaire
© Cocoon Center UK
What the hell is this stuff? It's as gentle as water (maybe more gentle?!?), it takes off all your makeup way better than soap and water ever could, it's scentless and it leaves your skin soft and clean. I have no idea how this magic elixir works (I even looked it up and I still don't understand). I left it for last because I feel like it's the one thing on which every single person on earth can agree: It works, it will never make you break out, it will change everything. It's so perfect you might wonder, as I do, what would happen if you drank it. Would it make you healthier? Would you get younger? Don't drink it.
Photo: deborah-is-lola/flickr
This article was originally published on