The Womanizer Toy Feels Like Oral Sex — But Better
We only recommend products we love and that we think you will, too. We may receive a portion of sales from products purchased from this article, which was written by our Commerce team.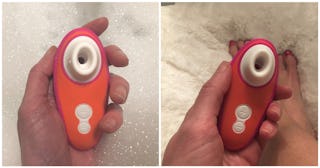 Scary Mommy/Author
Not sure whether or not to try the Womanizer? Here's a totally unbiased review of the Womanizer Liberty (spoiler alert: it's worth alllllll the hype). As a divorced woman, I've used a lot of vibrators in the past few years (and I write about my experiences too, like this review of The Satisfyer Pro — also worthy of a huge thumbs up). I'm not shy about it and believe masturbation is a form of self-love that needs to be normalized. I'll all for being a part of this movement. So, naturally, when I heard about the Womanizer Liberty, I was anxious to see if the air technology it offers was really as pleasurable as my vagina hoped it would be.
It was.
If clitoral stimulation is your jam, the Womanizer Liberty needs to meet you on the corner of Between My Thighs and Part Those Lips. I'm all for doing as little work as possible, whenever possible, and this air technology they speak of literally does it all for you. And by all, I mean it will hit you and all the right places without you having to move a muscle once it's in place.
I'm not ashamed to tell you after I got my new pearl-pleaser in place and found the right intensity level (I'm a three all the way), I climaxed in under two minutes. It was one of those moments in my life I wanted to last longer, but there was no way in hell I was going to disturb what was happening to my body. I went to another dimension and had no control over my hands so, there really was no way I could prolong the intense party that was happening under my sheets.
What can I say? I'm a glutton for a full-bodied orgasm.
This Lily Allen Special Edition is water proof and is small enough to take with you anywhere. It comes in vibrant colors and is made with body-safe materials so you can go to O Town over and over again. I'd also like to add if you have a special place in your vulva for oral sex, this Womanizer knows how to perform Cunnilingus like, well, no one that I know. You don't even have to direct it or move your body to the right — it knows what to do.
This toy is multifunctional. It's great for nipple stimulation so don't be afraid to introduce it to your breasts. My recommendation is that you do that first to really get you juiced up because if you go right for the flower, you may never make it to your nipples and they will feel left out.
Or you could always purchase two (like I plan on doing) because I don't want to favor one body part over another.
It can be used with another toy if you like penetration. It's compact enough so you can have one love stick on the inside, and this priceless gem on the outside so a wild night (or morning, or afternoon) you will never forget.
One (very excited) reviewer said, "This thing is absolutely, and without a doubt, worth every doggone penny! I've never been someone who can have a female ejaculation — but! This device really puts that possibility to the forefront and in the very short time I've owned one, I have done, and recognize that feeling now. It is hard to find the words, as it feels like something I've never conceived of, but have been searching for all of my years of self-pleasuring."
I mean, how's that for positivity. Amazon has several different Womanizers you can try out, too, like the Womanizer Premium, which is shaped differently and has 12 intensity settings.
If you're looking for the same sensations as what the Womanizer can provide but also like using rabbits, the Womanizer Duo Rabbit gives you the best of both worlds! As in, satisfaction for both your clit and G-spot. We really can have it all — at least, when it comes to masturbation.
And make no mistake, toys like this don't have to be reserved for your hands only (unless that's how you like it). It can really spice things up with your partner if you add a battery-operated friend into the mix. It doesn't have to replace anyone and the wonderful job they do to you, yet it can add to the experience and make it a bit more interesting.
Once you purchase a Womanizer, be sure to block off at least one full day to yourself. You're not going to want to leave your bed.
This article was originally published on