These Cleaning & Organizing Tools Will Make Your Life So Much Easier
Robot vacuums, spot cleaners, and more.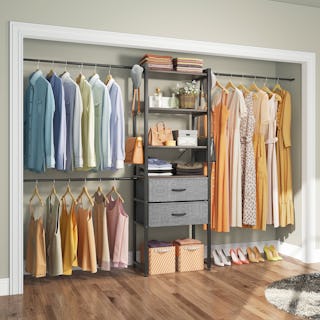 We may receive a portion of sales if you purchase a product through a link in this article.
According to the all-knowing Internet, the concept of spring cleaning dates back roughly 3,000 years to a Persian new year custom called khaneh tekani (translation: "shaking the house"). The idea was that sweeping up dust and debris and decluttering would shield the home — and its inhabitants — from bad luck. But you don't have to be superstitious to relish the feeling of spotless floors and intuitively organized living spaces, and giving your house a much-needed glow-up doesn't have to break the bank when you shop on Walmart.
An affordable, compact robot vacuum? Yes, please. A cordless cleaning brush that'll make both your shower tiles and your car windshield spotless? Say less. A stylish, wall-mounted bike rack cheaper than a takeout dinner for two? You know what, maybe just read the rest of this article in your car on the way to Walmart (no speeding, please).
Here's what we're shaking the house with this spring: