Girl Dad Builds 140-Tiny Home Village Inspired By His Daughters' Favorite Children's Book
Step inside the world of Barbara Cooney's Miss Rumphius.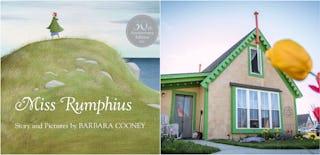 Amazon; Boiceville Cottages
We may receive a portion of sales if you purchase a product through a link in this article.
Anytime a bookworm gets the opportunity to visit a place from their favorite book (whether it's real or made-up) is a special thing. For example, Hogwarts from Harry Potter or Forks, Washington, from Twilight. Even if it's something as minuscule as a coffee shop or bookstore that an author name-dropped in their most recent novel. These instances are made even more remarkable when you're able to reconnect with books that first sparked your passion for reading.
Most recently, parents had the joy of introducing a cornerstone of their childhood into their kids' lives via the cinematic adaptation of Judy Blume's Are You There, God? It's Me, Margaret. Of course, nothing made our skin crawl more than hearing middle schoolers dub Blume's work as "historical fiction." Nevertheless, having a little piece of fiction-turned-reality is something that gets us bookworms up and excited, and now fans of Miss Rumphius can get in on that experience, too.
Builder Bruno Schickel has brought the fictional world of Miss Rumphius to life. Set against the rolling hills, crashing waterfalls, and majestic mountains of Tompkins County, New York, is a village of charming "gingerbread-style" houses inspired by the neighborhood of similarly crafted dwellings found in author Barbara Cooney's children's book.
The quaint town is located in upstate New York and is about a 10-minute drive from Ithaca, the famous home of the elite Ivy League school Cornell University.
Founded in 1996, Schickel has built 140 tiny homes dubbed the "Boiceville Cottages," which range from studios to two-bedroom addresses. The cottages' colors alternate between bright yellow, green, turquoise, lavender, and pink hues, and are fitted with lace trim. Strolling around Tompkins County is like turning a page in Cooney's illustrated children's book, each corner more vibrant and whimsical than the next.
In an interview with Daily Mail, Schickel shared that he was inspired to construct the Boiceville Cottages after spending so much time reading Miss Rumphius to his daughters when they were young.
"In this book [Miss Rumphius], there are beautiful illustrations of this little gothic gingerbread cottage on the coast of Maine, and the village where she would bicycle through and plant her lupines," he explained of the village's fictional origin. "It really was inspiration for me to design and create something that looked like that."
According to Daily Mail, rent for one of these colorful cottages starts at $1,545 per month, and the village typically operates at full capacity year-round. An additional $100 to $125 is added to the monthly rent to cover utilities. Pet owners will be happy to know that all the "Boiceville Cottages" are pet friendly.
Photos obtained by the outlet show some of the tiny homes' most unique features, like exposed wood beams and vaulted ceilings, which Schickel says will "definitely make you stop in your tracks and smile."
"It's an incredible community, and people absolutely love living there," Schickel continued.
Apart from living out your childhood bookworm fantasy dreams, tenants can appreciate the many outdoorsy activities Tompkins County has to offer, including a vast amount of hiking trails. The area is also known for its restaurant scene, with the college town of Ithaca being just one town over.