Bibbidi, Bobbidi, Bags Packed
I Write About Theme Parks For A Living. Here's What I Packed For My Toddler's First Disney Trip.
This Disney adult finally brought a kid to Disney World.
by Morgan Flaherty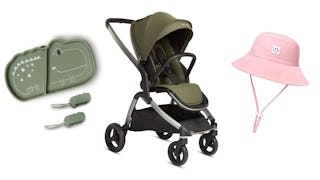 Amazon
We may receive a portion of sales if you purchase a product through a link in this article.
Despite having gone to Disney World countless times over the years for my job, this Disney adult has a confession to make: Until very recently, I'd never gone to Disney World with a child. That's right; despite visiting a theme park that the world would have you believe is made for kids, I never actually visited with one since I myself was a child.
But over the summer, we took my one-year-old daughter to the parks for the first time — and, tbh, planning for it made me feel like a Disney newbie again. While I wasn't naive enough to think everything would go according to plan on her first trip to Disney World (nothing ever does with a toddler), it didn't stop me from starting my packing list way earlier to map out the best course of action.
Here's everything that made the list for my kid's first trip to Disney World.
Toddler's First Disney Trip Packing List
While your packing list can change depending on what age your child is, these are a few of the essentials I knew I wanted to bring for my daughter's first Disney World trip.
1. Stroller
If I were flying into Disney World, I'd likely rent a stroller. However, since we live in Florida and just drive to the parks, I brought a travel stroller. Our travel stroller is the Colugo Compact Stroller, which is easy to fit in the car and supremely lightweight.
2. Stroller Fan
Any time we're spending lots of time outdoors, I also bring our stroller fan, which helps to bring just the slightest breeze to a boiling hot Florida day.
3. A Baby Carrier
While a baby carrier is definitely not something older kids will need, it's a must-bring for my newbie walker. While Disney will allow you to bring strollers to most areas of the parks and resorts, they are not allowed in lines or in restaurants. If we're waiting awhile in a queue, bringing a baby carrier saves us (the parents) from having very tired arms.
4. A Backpack That Holds It All
Whether you're going to Disney World with kids or not, having a backpack that can hold it all is incredibly important. For our first trip, I opted for the Colugo Parent Backpack, which is lightweight but has tons of room to store everything I could possibly need to pack for myself, my husband, and my daughter (because I am the queen of packing for all).
The backpack comes with pockets for everything and is machine washable, so I can throw it in the washing machine when something inevitably spills in and/or on it.
5. Slumberpod
This item on the list is more geared toward the younger kids, but I no longer travel anywhere without the SlumberPod. A 6:30 p.m. bedtime may sound nice in theory, but you realize quickly on vacation in a single hotel room that it's… inconvenient.
Instead of sitting in a dark hotel room in silence to not wake the baby, I swear by the SlumberPod, which essentially acts as a blackout tent that goes over our Pack 'n' Play. With spots to put a video monitor and fan, this was a game-changer in ensuring our kid stays asleep on vacation. Not to mention, it makes nap time a whole lot easier (and a day in Disney World definitely requires a nap).
6. Portable Silicone Plate
Whether we're stopping for a quick snack or sitting at a table, I love to travel with a small silicone plate. She's still at the age where she will happily grab and throw just about anything, so having something that will stick to the table is key. Plus, it's super easy to wash off in a sink and put back in my (giant) backpack.
7. Sun Essentials
No matter what age you are, sunscreen at Disney World is an absolute must. I brought a kid-friendly bottle with me that could be used before going to the parks and then reapplied after.
8. Sun Hat
To keep the sun out of her eyes, we also brought along a UPF protection hat to cover her face and neck.
9. Snacks
While Disney World hardly lacks food options, it's never a bad idea to bring a few small snacks to avoid hunger meltdowns. My favorite way to do this is with small puffs like the ones from Little Bellies.
10. Snack Containers
I store them in the Munchkin Snack Catcher so she can easily eat them. These save us in any lines we end up standing in.
What to Know About Bringing a Baby to Disney World
If you plan on visiting Disney World with younger kids, there are a few very important things to keep in mind.
Ticket and Meal Pricing
While it may sound like a poor life decision to spend a ton of money on bringing a young kid to Disney World, there is one major thing to consider. Kids under three do not require a ticket to the parks at Disney World.
Additionally, there are different dining rules for kids under three at Disney. At buffets, kids under three eat free and can be served on their own plates. For prix-fixe or a-la-carte menus, kids under three can share anything from your plate.
Baby Care Centers
Whether you're visiting with a baby or a younger kid, you should know about the Baby Care Centers in each of the parks. With a location at all four Disney World parks, Baby Care Centers provide a spot for parents to feed, change, or nurse their children.
The full-service facilities have changing rooms, restrooms, a feeding area with highchairs, a room with a TV, table, and seating, and even a shop that offers formula, baby food, and other essentials. If you are with younger kids, the Baby Care Centers are essential locations to take care of all their needs in a more relaxed environment than you'll find in other spots around the parks.
Stroller Policy
Because Disney World is huge, bringing a stroller can also be essential to avoid carrying around a toddler all day. You have a few options when it comes to strollers, including bringing your own. If you do bring your own, you'll want to note that Disney does have some requirements in place. Strollers must not be larger than 31 inches wide and 52 inches long, and stroller wagons are prohibited.
You can also rent a stroller if you'd prefer not to bring your own. You can do this through a third-party stroller company (Kingdom Stroller, Orlando Stroller Rentals, and Magic Strollers are a few options) or through Disney itself. A single stroller is $15 a day or $13 a day if you plan on renting for multiple days. A double stroller is $31 a day or $27 a day for multiple days.
TL; DR
Am I out of my mind for bringing a one-year-old to Disney World? Perhaps. But with my packing list set, I felt confident that this Disney adult could sufficiently handle the Most Magical Place on Earth with a toddler in tow.