11 Mom-Tested Hacks For Visiting Disney With Kids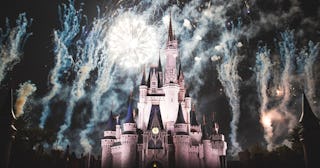 Unsplash
Here's some time-tested Disney trivia for you: There's no ifs, ands, or buts about it — going to Disney is one of the most magical trips you can take with your little ones. But we're going to hit you with some real talk, because we all know that any big excursion or trip with kids means toeing a fine line between dream-come-true and disaster. While there are countless things that contribute to making Disney a once-in-a-lifetime memory, there are likewise countless things that could potentially lead to a once-in-a-lifetime meltdown.
RELATED: Best And Cutest Kids Umbrellas To Make Spring Showers More Fun For Everyone
Realistically, it might be you who cracks before the kids. Between the pressure to provide a perfect vacation (spoiler alert: there's no such thing), the lines, the heat, the cost of Disney magic… it can feel overwhelming, to say the least, if you aren't prepared.
RELATED: 105+ Trivia Questions And Answers For A Challenging Game Night At Home
And you know what, Mama? You deserve a break. You deserve to go have fun with your family. We hope pixie dust falls from the skies during your visit like manna from heaven. In fact, let's start that magical journey now. Here are some of the best hacks for visiting Disney with kids.
Meet Your Mobile BFF
Before you get to Disney, do yourself a favor and download the My Disney Experience app. Get familiar with it. If you were heading to the parks without your kids, you might be able to just wing it. But with kids, this app proves invaluable. It lets you instantly see wait times. It lets you book Fast Passes. You can order food, see your reservation details, see park opening and close times, find out when parades and shows take place. It's a huge time-saver and potential-meltdown-thwarter. Got an overheated, hangry little? Find the closest quick-service eatery in a minute flat.
Ask and You Shall Receive
Disney CMs, or cast members, are wildly helpful. And friendly. They're pretty much what makes Disney the happiest place on earth. Accordingly, they're more than willing to try to meet any need you may have for your little one. Do you have a kiddo with dietary issues? Don't be afraid to let them know. Need bed rails in your resort room for a restless sleeper? They'll hook you up. Tired of toting around every single souvenir your kid wants? When you make your next purchase, ask to have it sent to the front of the park. This service is free, and they'll hold your souvenirs at guest relations for you to pick up on your way out. '
Also, if your little one is celebrating a special occasion such as a birthday or first trip, stop by guest relations and ask for a "celebration button." It'll have your little one's name and the occasion for celebration on it, which will get them lots of extra love from CMs around the park.
RELATED: 10 Best Disney Toys To Keep Kids Living Their Most Magical Lives Right At Home
Kick Hunger to the Curb
Speaking of eating, it deserves its own section. Outside of rides and general merriment, perhaps the biggest Disney draw is food, right? And even if you don't indulge in food at the parks for the novelty of it, you'll need to nosh on something for fuel. There's a lot of ground to cover! So, it's helpful to have a few foodie hacks in your pocket when hitting up Disney with your kids.
Remember the My Disney Experience app you downloaded? It comes in mighty handy for ordering food. Arguably the best feature is the ability to order quick-service food and effectively skip waiting. If you think kids dislike waiting in line for rides, try having them wait in line for food. No fun.
The app will pull up food options near you, indicating which spots offer mobile ordering. Once you decide which one you like, you can place your order. The app will show you the details of your order and let you know when it's ready to pick up. Then you simply walk to the mobile ordering pick-up window and get your grub, fuss-free.
Another tip for eating in the parks is to find out if the sit-down restaurant you made reservations for offers advance ordering. Some allow you to pre-order 30 days in advance which, again, cuts down the time you have to spend waiting to place your order at the park.
If you're on a budget but want to make sure your littles are getting enough nourishment for all the trekking around their little legs are doing, bring your own food. Disney is surprisingly lenient about bringing food and drinks into the park as long as it isn't alcoholic or in a glass container. Whether you just shove things into your backpack or bring a soft cooler, things like fruit snacks, trail mix, fruit, pretzels, bottled water, and the likes are perfect on-to-go sustenance.
Keep Track of Everything
In your mind, you probably have an image of Disney as a massive, busy place. And you know what? It's even bigger and busier than the picture in your head. It's easy to get turned-around or feel pulled in a million different directions due to the throngs of people. There are a few things you can do to give you peace of mind when navigating the chaos with your kids, though.
To keep tabs on your little ones, you could opt to get them smartwatches or fitness trackers that have a coordinating GPS location app. But don't stress if that's not in the budget. Some families get temporary tattoos for their kids made that have the parents' names and phone numbers (you can get supplies for this on Amazon). I met a mom once who went this genius route — she went to Wal-Mart and got a dog tag from the machine near the entrance that had her information on it. She then clipped it right onto the loop on her daughter's shorts.
Taking a few photos at the start of each day can be a helpful organizing and safety hack, too. Snapping a quick photo of your kids could prove invaluable in describing their outfits to security if they go missing while you're at the park. While you're at it, take a quick photo of the back of your MagicBand in case you lose it. It should be linked to your My Disney Experience app, but it doesn't hurt to have backup documentation. And since we're talking about magic bands, get the clips that help secure them for little ones. We lost two before we got smart and started using these.
Finally, on the organization front, consider buying a humble fanny pack. Yes, we know, you've spent half of your adult life poking fun at this circa '80s and '90s fad. They're back in style, though, so there are some really cute options. And they're possibly the most convenient option for toting around your cards, kids' meds, keys, or anything else you need to keep close.
Make Your Stroller Stand Out
Should you need or decide to bring a stroller to the park with you (either one you already purchased or one you rent), you'll quickly realize there are a lot of strollers at Disney. And when they're all parked in designated areas in giant clusters, they pretty much all look the same. This can make for unfortunate mix-ups and misplacements.
The solution? Bedazzle your stroller. Okay, don't literally bedazzle it (unless that's your jam). But you're definitely going to want to personalize it. There are tons of things you can attach to make yours easy to spot: bike lights, glow sticks, neon sports bandage wrap, bike flags. Get creative!
For those unfamiliar with Disney ways, a Fast Pass allows you to sign up for a ride in advance and dramatically reduce your wait time. Sometimes you basically bypass the standard line and board immediately. For more popular rides, there can still be a wait with a Fast Pass, but it'll be much (much) shorter than if you're on the standard line side. You get three Fast Passes per person per day. Obviously, your kids are going to want to ride more than three rides. So, take note.
First of all, you can get more than three Fast Passes per day — in fact, three more will open up automatically whenever you finish all three of your first set. As soon as you scan in for the final ride in your first three, get on the app and start looking for your next three. You can keep doing this for as long as you're at the park that day.
Be a Strategic Rider
Some rides will feel almost impossible to score a Fast Pass for and, naturally, these are usually the rides your kids want to go on the most. You can still emerge the hero in this scenario. Some parents swear by "rope dropping," or arriving at the park an hour before opening in the morning. As soon as you're allowed in, you rush to the ride you can't usually get a Fast Pass for. At the very least, you'll have a shorter wait than normal. You can also use this strategy to ride back-to-back rides with little to no lines by bypassing the most popular pick and heading for another section of the park.
Another tactic for shortening a popular ride wait is to research which in-park restaurants offer early reservations. For instance, Seven Dwarves Mine Train at Magic Kingdom is one of those impossible-to-get-Fast-Passes rides. Well, it just so happens to be very close to the Be Our Guest restaurant (aka Beast's castle). If you book an early breakfast reservation and time it right, you can finish your food and make it to Seven Dwarves Mine Train before the park officially opens or when the crowds have barely started to trickle into the park.
If mornings aren't your thing and you don't want to storm the castle (see what we did there?) in the early hours, try being a late-night rider. My family has gotten onto Slinky Dog Dash, Big Thunder Mountain Railroad, Space Mountain, and other popular rides with minimal wait by sticking around until half an hour or so before closing.
If Star Wars Land is your jam, you better get acquainted with what you find there before you go. For example, they don't have table-service restaurants so unless you're fine with just snacks and the coolest Coke bottles this side of the Galaxy you might want to go on a full stomach.
Prepare for the Weather
Disneyland isn't quite as complicated when it comes to weather as Disney World. Florida's weather is — how shall we say? — unpredictable. One minute it's 67, sunny, and pure perfection. The next minute you're huddled under a food cart umbrella with a family of strangers during a torrential downpour. And, well, there are many days where it's just plain hot and muggy.
Let's start with rain since chances are you'll experience it at least once during your trip. If you plan to bring a stroller for your littles, don't forget to bring a rain cover for it. Buy a pack of cheap ponchos and stash them in your bag. If the weather forecast calls for rain but no lightning, lean into it! Slap some rain boots on those babies and hit the park. Rides usually don't close for long, and you could end up hitting some major rides with little to no wait. Plus, something about the rain seems to bring out the animals on the Kilimanjaro Safari at Animal Kingdom.
To handle the heat, think light. Pack dry-fit, moisture-wicking clothes for your kids. On nearly 100-degree, 100-percent humidity days, you'll all be grateful. Cooling towels, which you can order from Amazon, are like a gift straight from the cooling gods on hot days. Toss one around your little ones' necks when the temps start to rise. Another cooling hack that kids love is a spray fan! These offer an affordable, portable, and fun way to beat the heat.
Take a Break
At some point — nay, at many points — you and your little ones will need to take a break from trekking around, or the heat, or the overstimulation, or all of the above. Pleasantly, Disney has thought of this. For starters, there are baby centers located inside of each park that are quiet and air-conditioned.
If your little one has outgrown the baby center stage of life, don't fret. There are plenty of spots to decompress elsewhere on the grounds. At Disney World, a few favorites are Tom Sawyer Island (Magic Kingdom), the bistro seating between France and Morocco in the World Showcase pavilion (Epcot), the Boneyard (Animal Kingdom), and the Studio Catering Company shaded seating area (Hollywood Studios).
And hey, you might need an entire evening to yourself after a fun-filled day with your kiddos at the park. Enter, Captain Hook's Pirate Crew. While it's located at the Beach Club resort, it's open to all, and it's amazing. This kids-only program allows you to drop your little ones off with Captain Hook for an "evening of swashbuckling": picking a pirate name, learning important pirate skills, going on a treasure hunt, and eating a pirate's feast.
If you want to make a night out of it with your partner, some Disney resort hotels offer in-room babysitting for kids 6 months to 12 years of age. Per the Disney site, the rates are as follows:
Number of Children — Price (per hour)
1 Child — $20
2 Children — $23
3 Children — $26
4 Children — $29
Hands-down, one of the most awe-inspiring things to do at Disney is watching the fireworks-slash-light shows in the evening. They are spectacular, and you might just find yourself getting a little teary-eyed — don't say we didn't warn you. They will be crowded, though. As you're walking around the park during the day, try to scope out potential viewing spots that aren't right in front of Cinderella's Castle.
No one wants to think about the worst when they're planning a trip to the happiest place on earth but what if your child becomes separated from you and is lost. After all, toddlers be toddlering and and preschoolers be preschooling, once they start running there's no catching up. All this to say, we hope it doesn't happen but it's always best to prepare for the possibility. In the case of lost children, a CM will escort your child to the Baby Care Center where they will be looked after and taken care of until you reunite with them. If your child is missing, alert your closest CM and they will direct you to the Baby Care Center.
Make the Most of the Big Finale
For example, you can get an amazing view of the fireworks near Rapunzel's Tower in Fantasyland at Disney World's Magic Kingdom, but you won't really be able to see the light show. The good folks over at DisneyTouristBlog have laid out the best and worst spots to view the fireworks.
Personally, we have a favorite spot that plays into our exit strategy. Which brings us to…
Have an Exit Strategy
Is Disney magical? Absolutely. Is trying to get out of the park magical? That's a hard no. Granted, it's not as bad at some parks. But let this be clear — leaving Magic Kingdom in the evening can be rough. It doesn't help that you've walked, like, 12 miles and are hot, sweaty, and exhausted. Your kids are tiny zombies by that point, and then you ask them to stand in a mind-boggling line to wait for the ferry or monorail. If you drove your car, you also have to drag your tired bodies across the parking lot.
It helps to come up with a game plan before you get to the park. What time will you leave? Are you going to stick around for the final fireworks and light show? If so, here are a few tips. Make your way as far back as you can for the final fireworks show. Say, for instance, scoring a table in front of The Plaza Restaurant. That way, when the show is over, you have the option of being toward the front of the giant crowd exiting the park.
Another idea? Grab that table at The Plaza or a spot nearby, but wait until the end of the show to place a food order. Sit and rest, enjoying your food and drinks as the mass exodus takes place. Once it starts to die down, that's when you make your move.
Either way, if your kid can still fit in a stroller, the end of the night is a compelling argument for why you should bring one. Otherwise, you may very well end up carrying your sleepy little Disney-goer all the way out to your ride.
Magical Disney quotes to get you in the mood
"Here you leave today and enter the world of yesterday, tomorrow, and fantasy." – Walt Disney
"All our dreams can come true, if we have the courage to pursue them." — Walt Disney
"If you can visualize it, if you can dream it, there's some way to do it."— Walt Disney
"Laughter is timeless, imagination has no age, dreams are forever."— Walt Disney
This article was originally published on