11 Trader Joe's Soup Recipes That'll Keep You Warm & Cozy
Cooler weather = comfort in a bowl.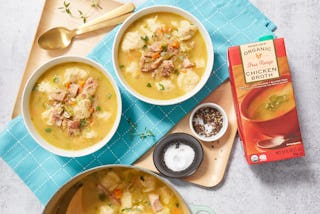 It's the meal on everyone's mind: soup. With the holidays right around the corner, cultivating peace is at the forefront of agendas, and a key component of that is returning to your favorite comfort food recipes. For many of us, especially during the colder months, that's soup. The hashtag #soupseason is trending once again on social media, with users sharing their preferred soup-starters, debating which noodle makes for the best chicken noodle soup, and whether a stew is also a soup. (The answer is no, but that's an argument for another time.)
From mirepoix to various stocks and broths to fun-shaped noodles, Trader Joe's has everything you need for soup season, including a delicious online database of soup recipes. You don't have to be a master chef in training, either. Several of these are three-step recipes that center around frozen and pre-cooked ingredients.
As your resident TJ's connoisseur, I guarantee these soup recipes will knock your socks off, and keep you warm and cozy through springtime — and summer, because who says soup can only be enjoyed in cold weather?
Find your new favorite soup recipe below.
1. Italian Sausage and Gnocchi Soup
Don't let the ingredient list fool you; this one-pot soup recipe is super easy to make, and it cooks up in under 30 minutes. It's packed with protein, fiber, and antioxidants (thank you, kale!). If you like your soups on the thicker and creamier side, substitute heavy cream for coconut milk. You can also use spinach instead of kale.
2. Chicken & Dumplings Soup
Up until recently, this was a recipe I was never able to recreate at home. Dumplings are not my strong suit, but this TJ's chicken and dumplings recipe is dummy-proof — trust me, I've made it! You're buying pre-cooked chicken (the best soup hack), so the only thing you have to worry about is turning the biscuits into little doughy balls.
Pro tip: This is not a "cook now, save for later" soup. It's best enjoyed right away and as leftovers the next day.
3. Turkey & Wild Rice Soup
With the holidays coming up, TJ's turkey and wild rice soup is a delicious way to maximize your leftovers. You'll need a package of TJ's Holiday Vegetable Hash (this will serve as your mirepoix), leftover turkey, and lots of herbs. If you have extra turkey stock lying around, use it (though chicken stock will also suffice).
4. Channa Masala Tomato Soup
Soups can do no wrong, but there is one con that can sometimes outweigh all the good parts — and that's a long cook time. TJ's channa masala tomato soup got the message and dwindled its cook time down to just 10 minutes! In a bowl of tomato soup, add a generous portion of TJ's Channa Masala and a dollop of yogurt. That's all there is to it.
5. Lemon Chicken Orzo Soup
One of my favorite TJ's recipes to date, this lemon chicken orzo soup is light on the stomach but rich in flavor. It requires absolutely no cooking (yes, you read that right). Simply combine TJ's Mediterranean Pasta Salad and Tangy Lemon Pepper Grilled Chicken in a big pot along with chicken stock. Heat and serve!
6. Mushroom Miso Soup
This recipe calls for sautéed onions, crimini mushrooms, bok choy, tofu, and TJ's Miso Broth (consisting of miso, mushroom, and ginger). Mushroom miso soup can work as a starter or entree. Trader Joe's says it's also a good "balanced" meal if you're looking to take a break from hearty dishes such as creamy, cheesy pasta.
7. Full of Fusilli Veggie Soup
Another vegetarian option, TJ's "full of fusilli" veggie soup is stocked with chopped veggies including onions, carrots, celery, and roasted bell peppers, though you can add whatever you want. Pro tip: Boil the pasta in a separate pot so it doesn't absorb the broth.
8. Quick Chicken Tortilla Soup
In a salivating twist, this quick chicken tortilla soup's starter isn't a chopped combo of carrots, celery, and onions, but red salsa! You'll also find corn, black beans, avocado, cilantro, lime, and chicken (which you cook yourself or buy pre-cooked). Top with shredded cheese and red pepper flakes if you dare. Serve with warm tortillas or tortilla chips.
9. Potsticker Soup's On!
This potsticker soup is fantastic for last-minute dinners and big groups. The main event is TJ's Gyoza Potstickers, and you have so many flavors to choose from (chicken, pork, shrimp, or vegetable); pick one or surprise your tastebuds with a variety mix. Feel free to alter the veggies to your liking.
10. Spicy Sausage and Kale Soup
Before you get started, you should know this isn't a time-saver recipe. You'll need to set aside 60-90 minutes to slice, chop, cook, and simmer this spicy sausage and kale soup to perfection. There are three major steps: cooking the sausage, cooking the quinoa, and combining everything together. Don't worry: The sweat will be worth it.
11. 3-Ingredient Chimichurri Soup
TJ's Organic Tomato and Roasted Red Pepper Soup, TJ's Frozen Peruvian Style Chimichurri Rice, and frozen roasted corn are the three ingredients in this chimichurri soup. All you need is 15 minutes to whip this soup into shape; just combine everything in a big pot and stir until heated through.