Crushing On All Three, TBH
A Mom Captured Her Ex-Husband Proposing To His New Girlfriend & It's So Pure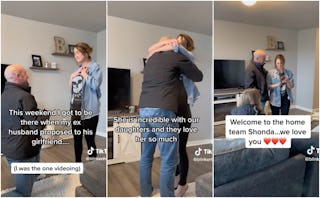 @BlinkerThanks/TikTok
Raise your hand if you can look at your ex-husband without wanting to claw out his eyes. What? No? Same. It turns out, however, that there are rare unicorn exes that actually get along and look after each other, even when (for whatever reason) they sucked at being married. That's certainly true for Michigan exes Leah Bourdo and Steve Bourdo — so much so that Leah recently volunteered to take video when her former husband proposed to his girlfriend (now fiancée) Shonda Betz.
"I got to video my ex-husband propose to his girlfriend…," Leah captioned the TikTok of Steve's proposal, now viewed by nearly 6 million people. "So special."
And it is special, isn't it? Not only have Leah, Steve, and Shonda forged a working co-parent relationship, but they've all become actual friends.
It didn't always come this easy for the exes. In fact, Leah and Steve spent the early years of their divorce rarely speaking. "The only way we could make it work is to prioritize our children and put aside our feelings for one another," Leah shared on Today. "We were able to forgive each other."
"Any time you hate somebody, you're only hurting yourself," added Steve.
Family psychiatrists and child development experts often underscore how important it is for kids for their parents to have a healthy relationship. You don't have to be besties or even like each other, but if you can communicate with (or talk about) each other without resentment, it will go a long way in creating a healthy, happy life for your kid. That's not always possible or even easy, though. And if it does become possible later on, it still takes time to get to the point of loving and respecting your ex post-divorce.
Just consider Leah and Steve — not to mention Shonda, who sounds cool AF — a success story. Their proposal vid isn't the first time the Bourdo exes have made waves for their wonderfully functioning post-divorce relationship, either.
Steve previously made ex-wives across the globe swoon when he was caught on Leah's Ring doorbell checking in on his ex-wife. That video earned more than 18 million views. While another less popular (but still so sweet) video featured captured footage of Steve stopping by to fill his ex-wife's tires.
The internet can't quit gushing about Steve, and that's fair. But healing post-divorce and maintaining a well-functioning co-parenting situation requires work from both ex-partners.
Leah has worked equally hard to create this healthy dynamic. In her interview with Today, she described how she worked through alcohol addiction during her marriage to Steve to later become and remain a sober mom. You can also tell from the caring and sentimental words on the proposal video that Lisa steered away from gatekeeping her ex, her kids, and her family. She accepted Steve's new partner, trusting him to find someone who would blend well with their family dynamic.
"This weekend, I got to be there when my ex-husband proposed to his girlfriend," Leah scripted over the TikTok. "She is the kind of woman I have prayed would come into his life. She is incredible with our daughters, and they love her so much. Not only is she good to our girls, she respects the co-parenting relationship we have for our children. On top of that, she has become my friend, my family even. I love her with all my heart. And to my ex: Thank you for letting me be a part of this moment and sharing her with me."
Down in the comments, viewers were smitten with the whole blended family.
"Proof it doesn't have to be all drama spiteful, the kids are happy and that's more important than anything and anyone," one wrote.
"The fact that you stepped back and let them have that moment as their own little family shows what a kind, beautiful person you are," another said.
"You have taught me a HUGE lesson," said a third person.
Not sure you're quite ready to forgive, forget, and friend-up the ex? You're not alone. However, the Bourdo family is living proof that with a bit of work and humor, it might be possible for many exes.