Linda Hamilton Has No Time For People Who Think She Shouldn't Be Aging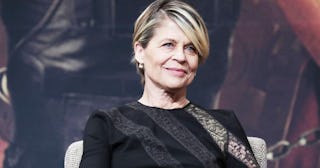 Han Myung-Gu/Getty
Linda Hamilton talks aging in Hollywood: 'F*ck trying to be what I was, because I am so much more than I was'
Linda Hamilton first became a household name after playing Sarah Connor in the Terminator film series. From her debut in 1991 to her role reprisal for the upcoming Terminator: Dark Fate, 28 years have passed, and the actress has a lot to say about aging in Hollywood.
After nearly three decades of trying to move out of Sarah Connor's shadow, the 62-year-old Hamilton has taken on the role one more time for Dark Fate due out this month. "It wasn't so much about the work, because I love to work. I hope to work until I die, but if it's on stage for $7 a performance, that's enough for me," Hamilton shared with Us Weekly. With her onscreen presence, though, comes the opinions of others about how she looks. "I love my life in New Orleans. I left all this, not in a belligerent way, particularly, but just like, I don't get Hollywood. I don't get the obsession with this [motions to her body]. Skin is 16 percent of our body. Why does everybody focus on the color and the tightness of skin?"
Hamilton continued: "Of course people are going to look at me and say, 'Oh, she got old.' Yes, I did, and I have so much more to say as a strong, experienced life-ridden woman," the Beauty and the Beast alum said. "Ultimately, I woke up one day and said, 'Fuck trying to be what I was, because I am so much more than I was,' and that's what's coming to screen. That was the point where I was like, 'I am all in.' I dug to my places of greatest sorrow."
Hamilton, like many other older actresses, often feel they need to explain why they've aged, which is a ridiculous notion given their male counterparts rarely get questions about their changing looks. Actress Charlize Theron pointed this out when someone approached her about starring in the movie Wonder Woman, asking if she'd play the character's mom instead of the lead. "This is a great of example of how Hollywood slaps you in the face when you start aging," she said. "So somebody had said to me, 'Oh, there's action on this thing, Wonder Woman — we just want to make you aware of it.' And I was like, 'I'm just not familiar with it … I mean, what does Wonder Woman do?' And this person said, 'No, it's for Wonder Woman's mom.'" She's just nine years older than Gal Gadot who was cast instead.
Hamilton, who had mostly given up a career in Hollywood and was hesitant to come back for the film, told The New York Times, it was that pressure, along with how content she was with her life, that almost caused her to turn down the role. "That was my hesitation: Do I want to trade this lovely, authentic life for that? I didn't want my neighbors looking at me differently. We're neighbors because of who we are, not what we do, and I don't want that to creep into my life again," she says.
Here's to seeing a strong, beautiful older woman on the big screen being the bad-ass they've always been.
This article was originally published on