There's A 'Lion King' Collection At Build-A-Bear And Your Kids Are Gonna Freak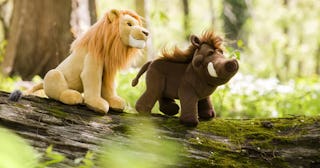 Build-A-Bear Workshop
The new Lion King Build-A-Bear collection has all the main characters, plus tons of cute outfits and extras
Were you worried that The Lion King "live action" movie would drop on July 19, and you wouldn't have a custom stuffy to clutch in the theater? Well, hakuna matata! Build-A-Bear has released a roaring new Lion King collection just in time for the film release. And it is adorable.
RELATED: Hear Me Roar: The Best Lion King Toys To Snag For Your Kiddos
We hope you have a little money left, and room in your house for more Build-A-Bear buddies, after their Toy Story 4 collection hit stores last month.
The Lion King collection includes six new character plushes — kid Simba, adult Simba, kid Nala, adult Nala, Timon, and Pumbaa — plus a range of outfits for the kid lions and traditional bears. All of the stuffies come with a cute, official Disney's Lion King logo on one paw.
The collection centers on Simba, of course. You can dress up the smaller kid toy in pajamas or opt for the more regal adult version.
You can also buy Nala (who, OMG, will be played by Beyoncé in the movie) in both kid and adult form — the kid version comes with an optional tutu that is totally adorable.
And don't worry: Build-A-Bear did not forget about the sidekicks. Timon the meerkat comes in an adorable (and affordable) nine-inch version, while Pumbaa the warthog is a bit more bulky — just how we like him.
Prices for the kingly plushes range from $15 for little Timon, to $29 for the kid-sized lions, to $32 for the adult lions and Pumbaa the tubby warthog. You can add clothes for the kid lions for $13-$16, or pick out various Lion King-themed gift sets for $33-$37. For $8, you can add two different sound chips: Simba singing "I Just Can't Wait To Be King," or the "Circle of Life" chant.
If you want a traditional bear, but still want to celebrate the Lion King movie, there are tons of new outfits to choose from. We love this simple jeans-and-a-t-shirt look.
We also love this girls' look, which goes great on a bunny, we believe.
Or this cool summer look. Don't try to hard to think about how a bear would wear flip-flops.
You can buy all of these pieces separately, or you can buy gift sets — we love this one of Nala as a kid rocking a halter dress.
The movie, which opens in just a couple of weeks, boasts an incredible all-star cast, including Donald Glover as Simba, Beyoncé as Nala, Seth Rogan and Pumbaa, Billy Eichner as Timon, Keegan-Michael Key as Kamari, and James Earl Jones as Mufasa.
They're available now, so we might just go to the mall and buy them all (just don't do this, whatever you do).
This article was originally published on