Dancers Respond To Lizzo's Request For A Ballet To 'Truth Hurts'
by Madison Vanderberg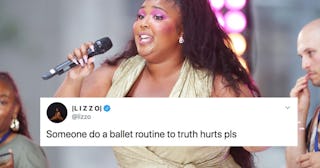 Al Pereira / Getty
Record yourself doing a ballet routine to Lizzo's "Truth Hurts" to enter the #LizzoBalletChallenge
Lizzo is having quite the summer. The singer, rapper, and flutist has been quietly hustling for years and in 2019, the world recognized her genius. Case in point: Lizzo released the song "Truth Hurts" in 2017, but it wasn't until this year that it became the chart-topping phenomenon we know and love. Not only is "Truth Hurts" everyone's favorite song ever, it has even inspired ballet dancers to twerk. Let us explain…
Lizzo put a call out into the Twitterverse asking for ballet dancers to choreograph a piece to her iconic anthem (the #LizzoBalletChallenge), and the ballet dancers of the internet did not disappoint.
James Whiteside and Erica Lall, two dancers at American Ballet Theatre quickly bust out this dramatic little ditty.
https://www.instagram.com/p/B1emIXKA73r/
A dancer named Conor Mckenzie created this badass ballet-meets-twerking phenomenon.
https://twitter.com/jetpack/status/1164571959771971586
We have no idea who this anonymous dancer is, but their perfectly syncopated ballet Tik Tok is mesmerizing.
Ballet Memphis doubled down on the challenge and suggested they create an entire Lizzo ballet.
"Just took a DNA test- turns out we are 100% that ballet. As the most diverse and innovative ballet company in the country, let's make a real #lizzoballet happen," Ballet Memphis tweeted at the star.
Tbh, we would gladly swap out annual Nutcracker performances for a pas de deux set to the tune of "Juice."
These adorable young future prima ballerinas absolutely melted our hearts, and we're also in love with Lizzo's statement about young kids and ballet lessons.
"I'd be honored if Prince George joined the Truth Hurts Ballet," Lizzo tweeted, which is in reference to Good Morning America host Lara Spencer's embarrassing remarks about Prince George learning ballet.
As we mentioned before, Lizzo released "Truth Hurts" a couple years ago and thanks in part to a feature in the Netflix movie Someone Great — the song, and Lizzo's career, completely blew up. The song also made it into the top 10 of the Billboard Hot 100 chart in July.
For all her acclaim now, Lizzo recalled how she almost quit music when she released the song in 2017 and nothing happened.
"The day I released 'Truth Hurts' was probably one of the darkest days I've had ever in my career. I remember thinking, 'If I quit music now, nobody would notice. This is my best song ever, and nobody cares,'" Lizzo told People. "I was like, 'Fuck it, I'm done.' And a lot of people rallied; my producer, my publicist and my family, they were like, 'Just keep going because this is the darkest before the dawn.'"
We're grateful that Lizzo kept going. Her music — and the viral ballet dance challenges that it sometimes inspires — make us smile, and dance, and feel great.
This article was originally published on