Long-Wear Lipsticks Are A Drying, Peeling, Crappy-Feeling Lie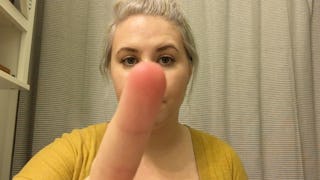 Sara Farrell Baker
All over the internet, I've been seeing videos of women showing off their lipsticked pout, then rubbing their finger all over their mouth to show that the color isn't budging. I eventually found out this was a LipSense thing. LipSense is a multilevel marketing company that peddles lipsticks and the like, claiming their colors won't smudge or transfer for up to 18 hours. That's quite a window.
However, LipSense is expensive AF. I was not interested in the investment I would have to put down just to try the damn things. You can't just buy the lipstick. You have to buy the gloss too. All for a whopping $55. As with most MLMs, there is usually another company's version of the product already for sale in a normal retail market for a fraction of the price. So I set out in search of something similar that wouldn't require me to feed my kids ramen for a week or announce to my family we would be "roughing it" until our electricity got turned back on.
I traversed great valleys. I scaled treacherous mountains. I braved frozen tundras. I added some browsing time through the makeup aisles to the end of a grocery trip with my kids. Almost every brand available had at least one form of long-wear lipstick. I limited my prospects to products advertising 16 hours of wear, or longer, and bought one of each. None of these cost over $15, which is an amount I can tolerate tossing in the garbage if I'm not happy with the purchase. In all, I bought six different lipsticks in various shades and committed to wearing each of them from before I ate breakfast until I washed my face for bed.
The lipsticks shown in the above photo are reviewed below, left to right.
This color ended up being my least favorite, but that's my own fault for picking something too warm for my skin tone. As with most of the lipsticks I tried, this was a two-step system. First, I applied the color, then a clear solid over top to seal. It went on fine, but it felt like there was a lot of stuff on my lips. It actually made me abstain from eating or drinking much. By the end of the day, my lips felt like crap, and there wasn't any discernible color left on them.
This was the only lipstick without something to seal it. It went on matte, and the color was pretty and bright. It basically is just a liquid lipstick. My lips were dry and peeling at nighttime, and the only color left was in clumps and cracks.
Going on, this was my favorite color. I like dark shades — they make me feel like a fancy goth lady. The second step in most of the others is a clear, solid lipstick. This was sealed with a clear gloss. But by bedtime, it looked the worst. It pretty much looked like I had old lip liner on and nothing else. Not a cute look. And again, my lips felt awful.
The award for the worst lipstick goes to this one. It lasted about an hour before the color was disappearing in places, leaving my lips patchy and dry. I had a Mother's Day luncheon at my son's preschool and had to quickly wipe off what was left of it off before we took pictures with our kids, thus the absence of an end-of-day picture.
For those that made it to the end of the day, this felt the worst. My lips were dry and peeling but also had this awful, gummy feel to their surface and white lines of old lip gunk. I could not wait to take it off. It should be noted that it is also the drugstore lipstick I see most often suggested as a dupe for LipSense.
Out of every product, this lasted the longest. I was worried that with such a bold color, I would be left only with lines around my lips again. It faded, but it wasn't as patchy as the lipsticks. And my lips were a lot less dry and peeling than with the others.
Every one of these lipsticks stayed on my lips and didn't transfer when I kissed my kids or husband, but I only collected data on that for the beginning and middle of every day. By the end, my lips always felt too gross to want to kiss anyone.
Overall, we probably shouldn't want lip colors that stay on for 16 to 24 hours. I think that if you can get a solid eight hours out of one application, that deserves some applause — especially when you're eating and drinking and talking and kissing your kids and letting your mouth do basic human mouth things.
And honestly, I would reapply every nine minutes for the rest of my life if it meant my lips didn't feel like they had Elmer's glue balling and peeling off of them every night.
But I would still buy one of these again, and that's the CoverGirl Outlast. It held up the best, and while I wouldn't try to squeeze an entire day out of one coat again, it has its use. I often don't wear lipsticks because of how much they transfer and wear off. It would be nice to go to an event or on a date for a few hours and not have to check my lipstick in the mirror constantly or avoid kissing my husband.
As for LipSense, I'm still not splurging on that nonsense. From what I've read, it makes for a similar issue with end-of-day grossness. The company blames this on a buildup of wax on your lips from customers using chapstick for years. They claim that your lips peeling and drying and feeling like they hate you is just an exfoliation process to get rid of years of waxy buildup.
I'm sorry, LipSense, but that's not how lips work. Skin is constantly shedding and being replaced by new skin. Wax from chapstick building up over years and then magically shedding because their product doesn't use any? That's a bunch of bull. As far as ingredients go, LipSense uses synthetic beeswax, which is…wax. But the likely reason that LipSense and other long-wear lipsticks parch your pout is that they all contain irritating ingredients like alcohols. They're in your products to keep their consistency smooth, but they leech moisture.
So what do I recommend?
For everyday use, I love hydrating lipsticks and balms. Revlon Colorburst Lip Butter is a pigment-rich lipstick that moisturizes and is easy to reapply without getting clumpy.
And L'Oreal Paris Colour Riche Lip Balm goes on more like a tint, delivering sheer but vibrant color that keeps lips smooth and hydrated.
And most of all, I recommend lowering your long-wear expectations.
This post contains affiliate links, which means we receive a small portion of the sale if you make a purchase using these links.
This article was originally published on