What I Love About Church Has Nothing To Do With God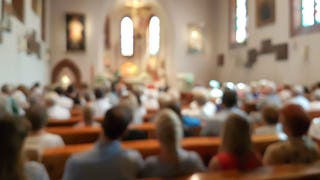 WDnet / Getty
My kids are getting big. They are quiet enough to last through the entire service without disrupting it. I could move up to the front of the church. But I don't. I remain where we have been sitting for the last 13 years. In the back. This is where I need to be so I can watch my church community in front of me. It is from here that I get my sustenance.
I saw it just this morning. It looked like any other Sunday, but it wasn't. He was sitting with two old friends. They had watched each other's children grow up. These guys had shared meals, vacations and projects in their retirement. Today the three of them sat next to each other in the pew. On the surface, it was just an older gentleman quietly sitting with two long-time friends. But I knew different.
One friend moved into an assisted living facility a couple of weeks ago because his dementia has worsened and he can no longer live by himself. The other friend lost his wife to cancer less than a week ago. Today I was privileged to witness these three beautiful friends sitting with each other. Holding each other up on a Sunday morning.
It is not dramatic. It is quiet but the beauty of it took my breath away. Like living out the "for better or worse" lines from a wedding vow, here they were. I get to see three friends showing up for each other in the tough times. This is the powerful stuff that church weaves into my life. Watching these other people helps my soul.
It is the gutsy bellow of the older German woman who, after a long absence due to health problems, announced her re-entry. After the pastor asked if there were any other announcements, she yelled up from the pews, "I'm back!" The volume of her voice and her clipped accent mixed in a sweet and salty way with the happy inflection of her words. It was both a loud pronouncement and a vulnerable invitation to welcome her back at the same time. I loved it.
It is watching an adult daughter sit down with her mother after her father had recently passed away. The daughter helped her mom into the pew and sat down next to her. She reached over and put her head on her mom's shoulder for a moment and then rubbed her mom's back. Their beloved dad and husband was gone, but she was showing her mom that she was still here. The softness of it required no words. I'm here. I'm not going anywhere. You are loved.
The same gestures happen a few pews up, but it's the other way around. A mother reaches over and caresses her toddler to reassure the little one. The toddler stops fussing and just leans into her mom's warm body. They connect. I'm here. I'm not going anywhere. You are loved.
It's the way I learn from another mom whose kids are older than mine. I check in with her about her older son who is in college and is a bit unsteady in finding his path. He's home for the summer and I see them. I watch them laugh and whisper a bit about something in the bulletin. I feel like I can see the pride in her eyes as she looks up at him. I watch how she navigates the spaces of helping a young man find a path in the world. I try to learn. To tuck it away for when I will need it in the not so distant future.
These are just a few of the moments of quiet beauty that I have been privileged to witness. They unfold in front of me like wildflowers in a field every Sunday. Nothing showy, nothing fancy, but if you stop for a moment and take it in, you feel the glory of the world around you. It renews my faith in humanity and shows me what community looks like.
For some, church is not where they go. Even the word religion may bring up trauma or pain. Experiences may have been hurtful or harmful for people and looking to a religious group for strength does not help. But gaining a community does not have to happen in a place of worship. Beautiful moments happen everywhere if you keep your eyes open and let them sink in.
You watch each other's hair gray and learn to work with each other's strengths and weaknesses. You see people who show up for each other week after week and those weeks turn into years. Suddenly you are watching a child you have known since preschool enter college. You grow old together. How can the beauty of this not stop me in my tracks and renew my faith in this fragile existence?
I know that there are young families in our church with noisy children who might want my spot in the back. I am sorry, but I can't leave it right now. I need to be here because I need all of you in my line of sight. I need you to help me keep moving forward. You may not realize it but you are helping to lift me up and keep me going. You show me the way and you inspire me to try and be better. I will show up for you, if and when you need me, week after week until those weeks turn into years. Just look for me in the back.
This article was originally published on